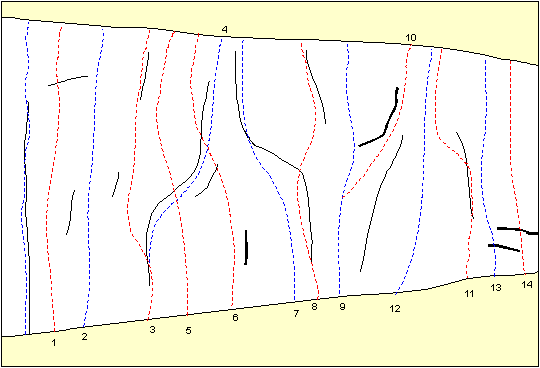 The first section of cliff reached on the Upper Tier gives a handful of short routes, some being reasonably worthwhile. The easier routes suffer from popularity due to the ease of access and hence can be quite polished.
1. Hornbeam Wall (VS 4b) a poor route passing a horizontal tree.
2. Hornwall (E1 5b) pleasant climbing on the obvious grey wall.
3. Horny (E2 5c) ★ difficult moves on glassy rock gain a flake crack leading rightwards to join Hornbeam.
4. Hornblower (E2 5c) ★ the thin crack above the start of Horny. Well protected.
5. Harvey Wall Banger (E2 5c) ★ takes a direct line through Horny with good climbing on the wall, PR.
6. Hornbeam (E3 6a) ★ thin and technical climbing gains the finish of Horny via a PR.
7. Coltsfoot Corner (HS) ★ the wall right of the corner gains a ledge from where the main line can be followed more conventionally.
8. Left Edge (HS) The polished flake and the left-facing flakes above.
9. Straight Edge (HS) the wall right of Left Edge.
10. Right Edge (VS 4b) the obvious right-hand flake line.
11. Coltsfoot Crack (HVS 5a) pleasant climbing via positive flakes.
12. Shelfway (S)a rightwards line past a tree gives access to leftwards moves over ledges.
13. End Flake (HVS) the flake crack right of the tree.
14. Recession Blues (VS 4c) A short difficult pitch moving left from a ledge to climb the wall.