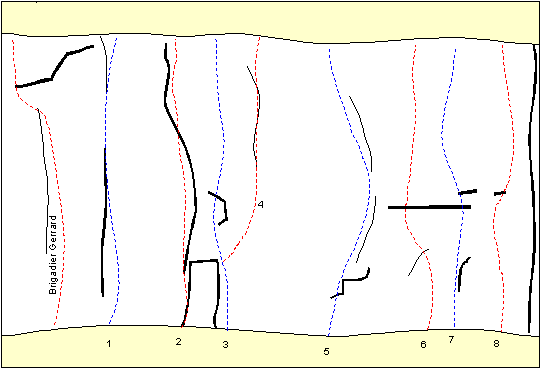 A fine section of cliff situated just beyond the line of trees. Its grey appearance together with sections of good solid rock give the best E1 on the cliff.
1. Tripe and Landah (E1 5b) the next crackline past a PR.
2. Fossil Finish (VS 4c) a difficult start to reach a thorn bush precedes easier climbing above via a crack.
3. Ego Beaver (E2 6a) ★ a super little route. From the top of a flake move up to a smooth scoop and pas a BR with difficulty to slightly easier climbing past 2PRs.
4. Titanium Man (E3 6a) ★ again excellent. Follow the wide crack and the thinner crack above to reach a rib, PR. Pass this by difficult moves with more technicalities in the shallow groove, PR.
5. Crystal (E1 5b) ★★ Superb. Climb the rightward-trending crack and thinner crack above finishing left of a ledge and via a short groove.
6. Dr Technical (E4 6b) ★ follow a shallow groove to the bulge and pass this with difficulty, TR to reach a BR. Move right to better holds and easier climbing via cracks.
7. Nurse Nurse (E5 6b) gain the bulge to the right, BR, and pull over using some unsound holds to gain easier ground, TR.
8. Read My Lips (E5 6c) the final conundrum on this section of wall. Gain a BR in the bulge and pass with difficult to a second BR. Passing this is truly desperate but if success is achieved a good tree lies in wait.