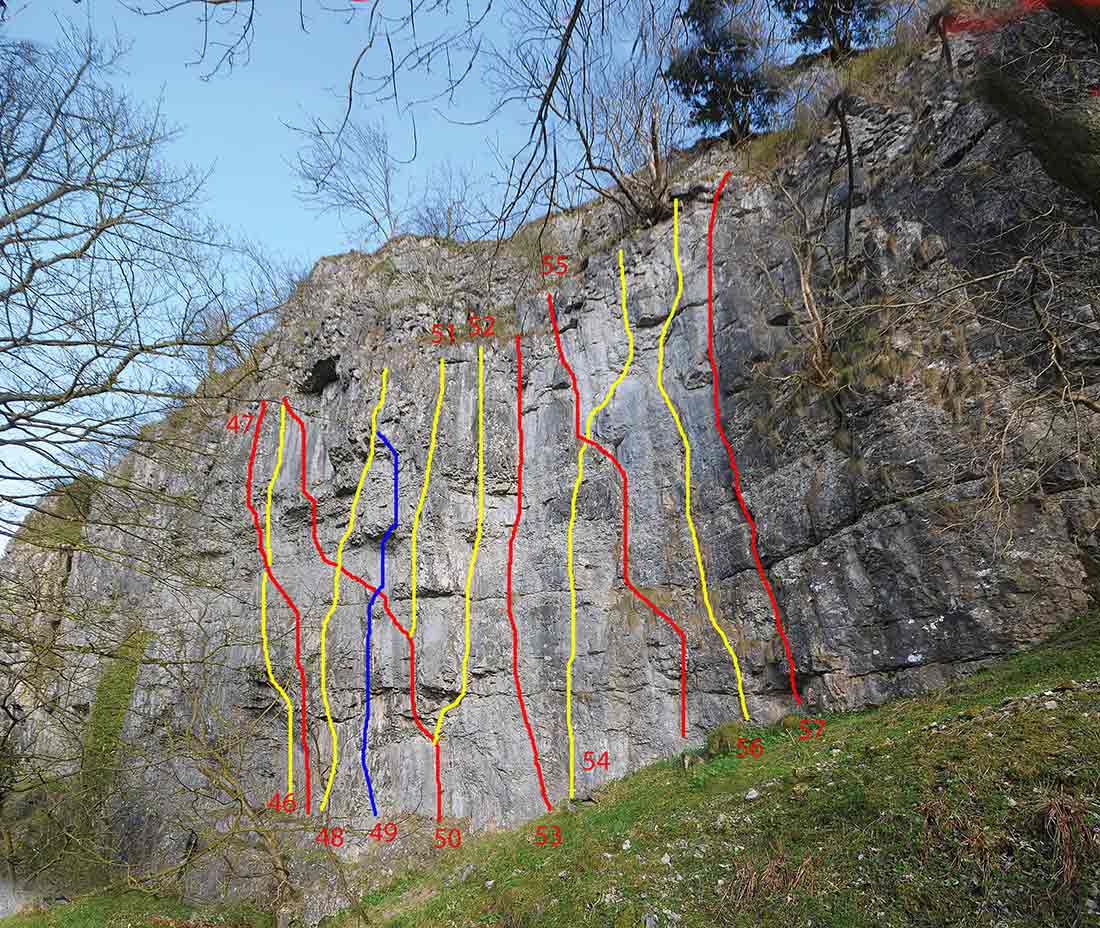 This is the right-hand side of the crag.
46. Premature Evacuation/Fatal Hesitation (7b+) ★★ a steep and powerful start links into a direct connection into the belay of La Chute. Probably harder and not reclimbed since hold loss in 2021.
47. Fatal Attraction (7a+) ★★ a good route, recleaned with a new start. Hard from the ledges.
48. Sox E5 6a ★ a direct line crossing La Cute. Re-equipped and cleaned to new belay.
49. La Brute (7a) ★★ an eliminate with excellent climbing and a hard finish. Maybe easy 7a+?
50. La Chute E5 6b ★★ the classic of the wall taking a leftwards line. Re-equipped, cleaned and new belay added.
51. La Route (7a) ★★ now retro-bolted is a popular sport route. A steep start, up the crackline and into the hanging groove.
52. Coldity Groove E3 5c ★ good climbing via the next hanging groove gained by hard moves from below.
53. Coldity Crack E1 5b a pleasant route aiming for the upper crack.
54. C'est Plastique (6b) ★ a good eliminate with an excellent finale.
55. Plastic Wonder VS 4c the stepped crackline to a vegetated finale.
56. Plastic Blinkers HVS 5b the next crack right leads to a fine headwall. Watch out for the dead tree.
57. Gwendoline HVS 5a ★ the finale crackline gives a good little route.
Dis-Orientated (6b+) little wall behind tree to right. Hard at the finale.
Unknown (??) Further right is another short wall with bolts in.