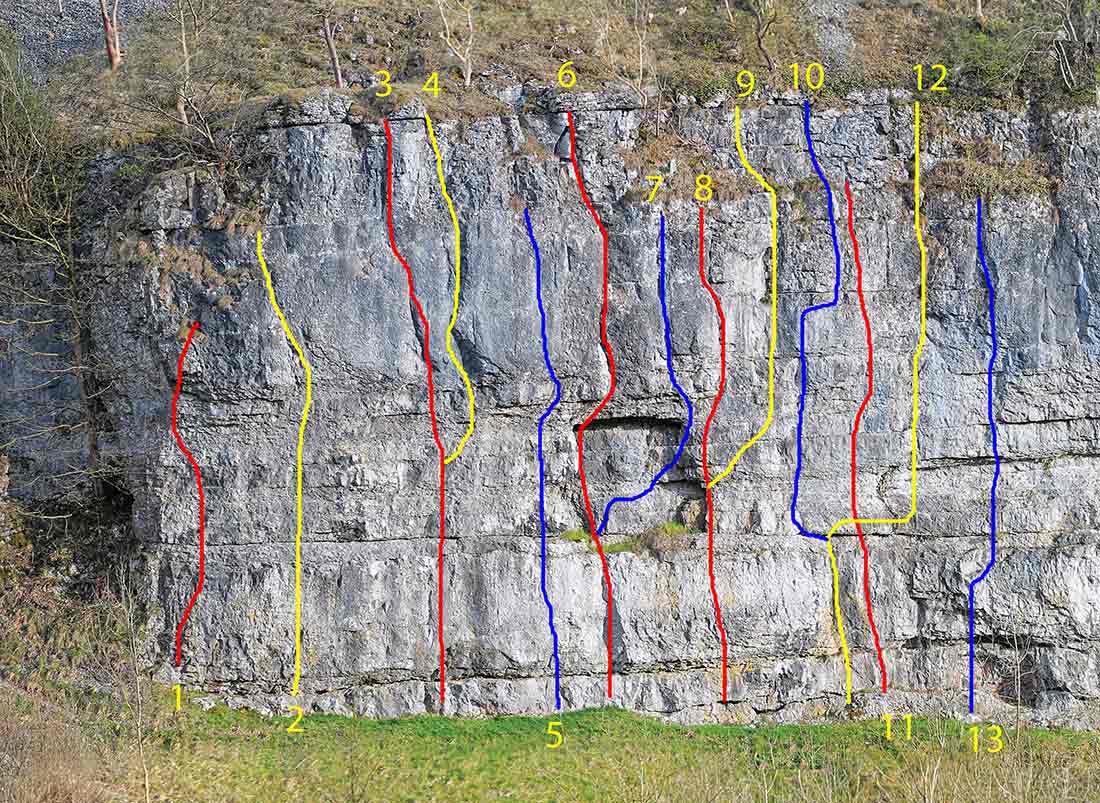 This is the left hand side of the crag.
1. Tiddle-de-Dum (6c) a short sharp shock through the overlaps.
2. Te Deum E3 5b very bold climbing up the wall into a faint, left-trending crack.
3. Hammy Hamster's Last Rites E2 5c ★ a bold little wall past a peg leads into the fine, left-hand crackline.
4. Chiming Crack E3 6a ★ moves out right with hard moves via a pod into a crack.
5. Dangerous Liaisons (7c) ★ old trad route that lost holds and been reclimbed and re-bolted. A knee pad is helpful but not essential. rebolted and reclimbed 2021.
6. Carillon Crack E3 5c ★ up to the left-hand side of the alcove, exiting via a bulge and fine, and still tricky, crack.
7. Silent Storm E5 6a moves right across the alcove, runners out right, and back into the crack above it. Bold.
8. Carol's Crack E3 5c ★ into the alcove from the right and exit via a bulge and crackline directly above.
9. Hemmingway's Horror E2 5c ★ fine and amenable climbing moving rightwards via a scoop and exit crack.
10. The Importance of Being Ernest E4 6a after s a short flake and step, a thin crack leads to a peg, step right and tricky finish.
11. It Tolls for Thee (6c+) ★ a fine little route direct to a fingery finale.
12. The Bellringer E2 5b ★ excellent climbing moving right from the starting flake into a long thin crackline.
13. Vapour Stream (7a+) ★ recently straightened out with a good direct line. Bouldery.