This wall is on the left side of Two Tier. It's easily recognizable by the open corner and huge flake line of the two pitch trad route Thoth.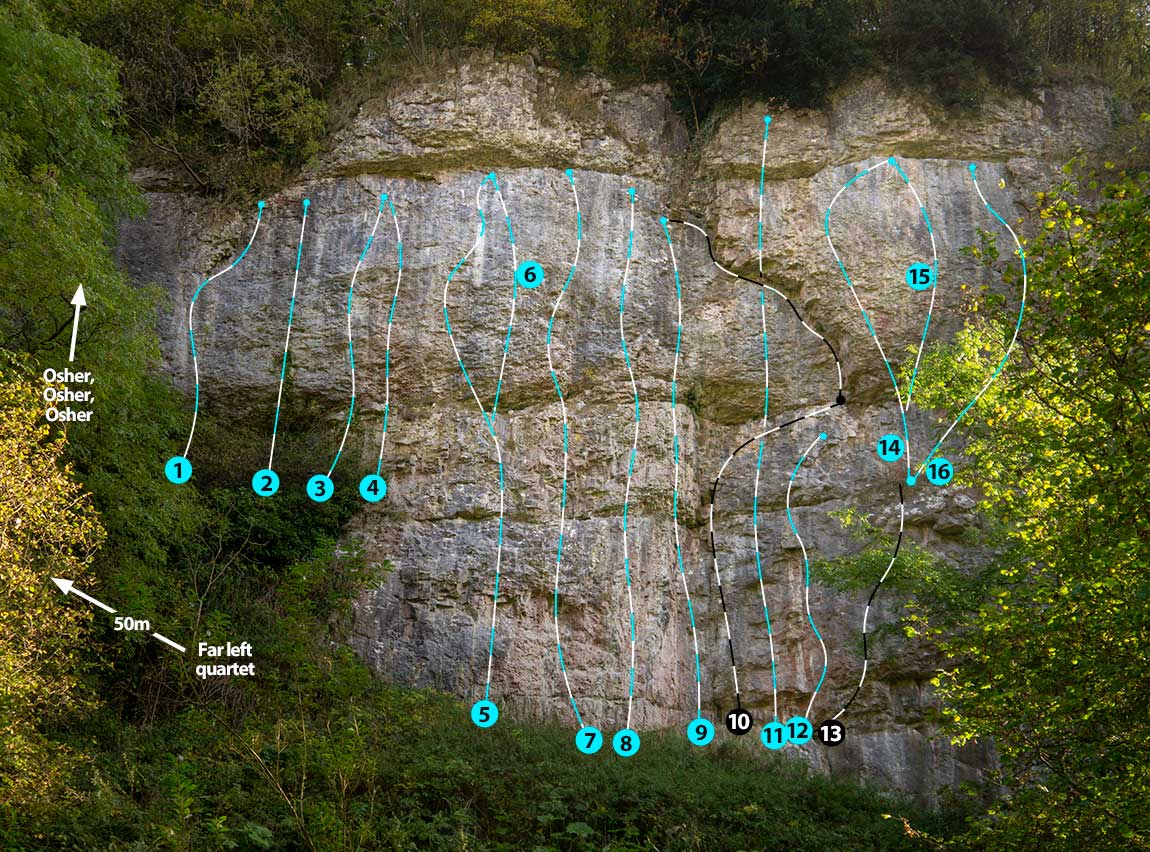 Another Brick in the Wall (7b+)
The furthest left line of bolts.
Osher, Osher, Osher (7a+)
Just off the topo and starting a few metres left of The Bride... A very fingery lower bulge leads to an easier wall above.
1. The Bride and Groom ★(6c+)
Another bulge and face getting easier above.
2. The Burqa King (7b)
The bulge and smooth looking face
3. The Incredible Pierre (7a+) ★
Start from the right hand end of the ledge and climb through the bulge and face above.
4. Short, Sharp and Sweet (8a)
Start from a block and climb the face above.
5. Short Sharp Shock (7c+) ★
A desperate wall. Rarely repeated.
6. Pour Dill (7b+) ★★
A fine sequence on the upper wall. Has glued on hold. Pour mon chien.
7. Open Gate (7a+) ★★★
A classic with a certain charm on the upper wall. Now less bold since rebolting.
8. Case Adjourned (6c+) ★★
A fine lower wall with fingery start leads to bold open face above. Maybe E5 6a is a better grade?
9. Smelting Pot (6c+) ★
The blunt rib left of the corner crack followed by a tough wall above break.
10. Thoth (E1 5b, 5a)
1. Climb the corner and move right to belay below the huge undercut flake.
2. Climb the flake to the lower off of Smelting Pot.
11. Cockerel Cry (6c+) ★
The wall right of the corner of Thoth then direct via bulges above.
12. Jackson's Browned Off (6c+)
Direct, not right, from platform gives good problem.
13. Running on Empty E5 6a
A short solo rightwards across wall from platform.
The next 3 routes start from a ledge above the previous route. This can be reached by climbing Jackson's Browned Off until you can move right to the belay.
14. Just Pullet (7a+) ★
Exposed open line to the left via flakes.
15. Evidently Chickentown (7c) ★★
Superb power moves into bottomless finger crack.
16. Poultry in Motion (7b+) ★
A few hard sharp pulls on the headwall.
The Far Left Quartet
A further 50m along the path to the left of the crag are four more routes for the connoisseur who has done everything. These can also be reached from Nettle Buttress.
Magician's Enemy (6b)
Takes a wall and bulge.
Birthday Boy (7b+)
A wall and desperate bulge and smooth wall
Pulsar (7a) ★
A wall and fine shallow groove
War Locks (6c+)
A bouldery wall and bulge.