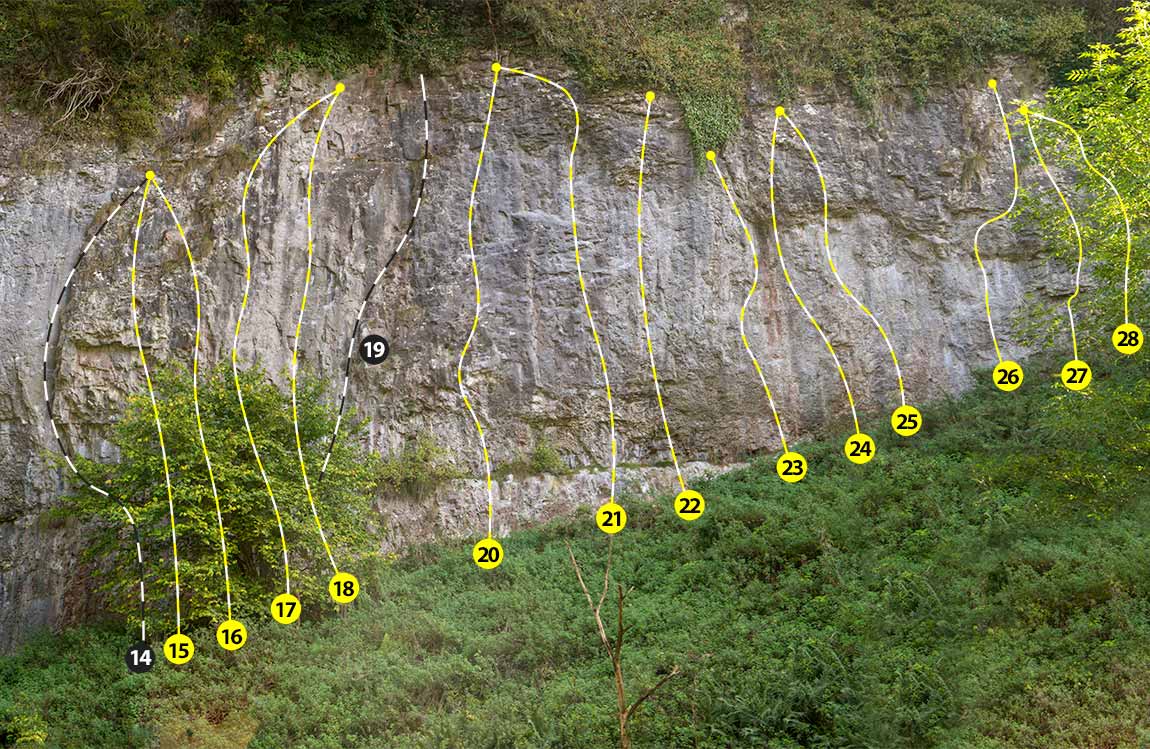 14. Ra E4 6a
Tight V groove to left onto grassy ground.
15. The Cruise Brothers (7a+)
Another short and difficult test-piece.
16. Luck be the Magic Number (7a+)
Short and difficult test piece on rib..
17. Some Coincidence (7a+) ★
Left side of wall on superb rock. Finish rightwards. Excellent though blind moves.
18. Rising Sap (6c) ★
Hard moves left of BRs from ledge, then flakes above. It's easier if you use the start of Osiris at the bottom (6b+).
19. Osiris (E1 5a)
The rightward trending corner with poor protection.
20. Subterfuge (6c) ★
Another tricky bulge and then the left edge of the scoop.
21. Quality Control (7a) ★★
Over the bulge and via the right edge of the scoop. Exit left.
22. Nogads (7b+) ★
An unlikely looking start over bulge leads to an easier wall. Go leftwards or direct at 7c.
23. Blockhead (7b) ★
Start below a short groove that ends in a bulge. Climb up left to gain a good flake and continue up the right wall of the groove via two glued on holds.
24. Reasons to be Cheerful (7b+) ★
Technical excellence via right edge of groove.
25. The Inbetweenies (7a+) ★
An intense sequence to left over slight bulge.
26. What a Waste (6c+)
Desperate past the 2nd BR. Start via groove.
27. Tippers (7a)
A short desperate wall leads to easy ground and a BB above.
28. Tip Dollar (6a+)
The short and pleasant on rib. New belay added in 2023.