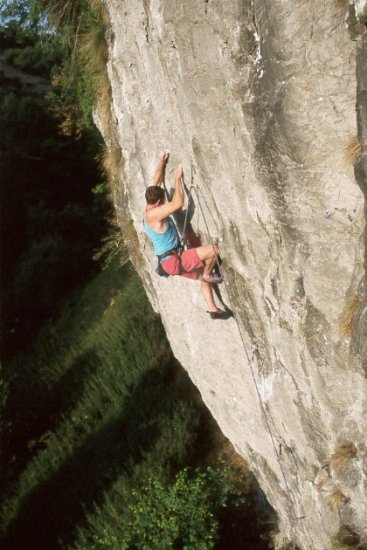 Gary Gibson leading the rebolted version of Some Coincidence (7a+). Photo: Carl Ryan
Gary Gibson on first ascent of Evidently Chicken Town (7c). Photo: Carl Ryan
The largest buttress in this part of the dale has matured into a superb sports-climbing venue with a number of new and retrobolted routes. To gain the cliff, cross the stepping stones below the Embankment or Riverside Buttress. The cliff is quite complex and gives a collection of three face, the left-hand of which is divided into two parts.
The right-hand section of Two-Tier Buttress gives a fine mixture of traditional and sport climbs alike with all of the latter category in the higher grades. Access to the face is very simple if the river is low via stepping stones across it below the Embankment. Otherwise an approach will have to be made by following the path below Long Wall from upstream or below Nettle Buttress and under Two-tier Left-Hand from downstream. The cliff gets the sunshine after 3pm in the afternoon but does take seepage in the winter months and after prolonged spells of wet weather.
The Left-hand buttress is by far the most imposing of the faces on Two Tier Buttress. It provides a huge variety of routes from the very compact and shorter problems on its right-hand side, the central area of classics from the mid-range 7s through to the downright desperate boulder problems through to a handful of trad. classics scattered about its midst. On its left-hand side some of the longest sport pitches in the dale can be found. This whole area dries relatively quickly in the spring and gets any sunshine after about 3pm.
The Upper Tier provides one of the most concentrated batch of fine hard routes on Two Tier Buttress although access can be a little problematical. This does have the effect of keeping the wall relatively quiet.
To reach the cliff, follow the path from the right-hand side of Two Tier Buttress up the slope, above Spizz Energy et al and reach a tree with sling and lower-off. An abseil from this leads to the terrace below the wall.
Descent is then from another tree fixed with a lower-off. The walls get the evening sunlight after around 3pm.