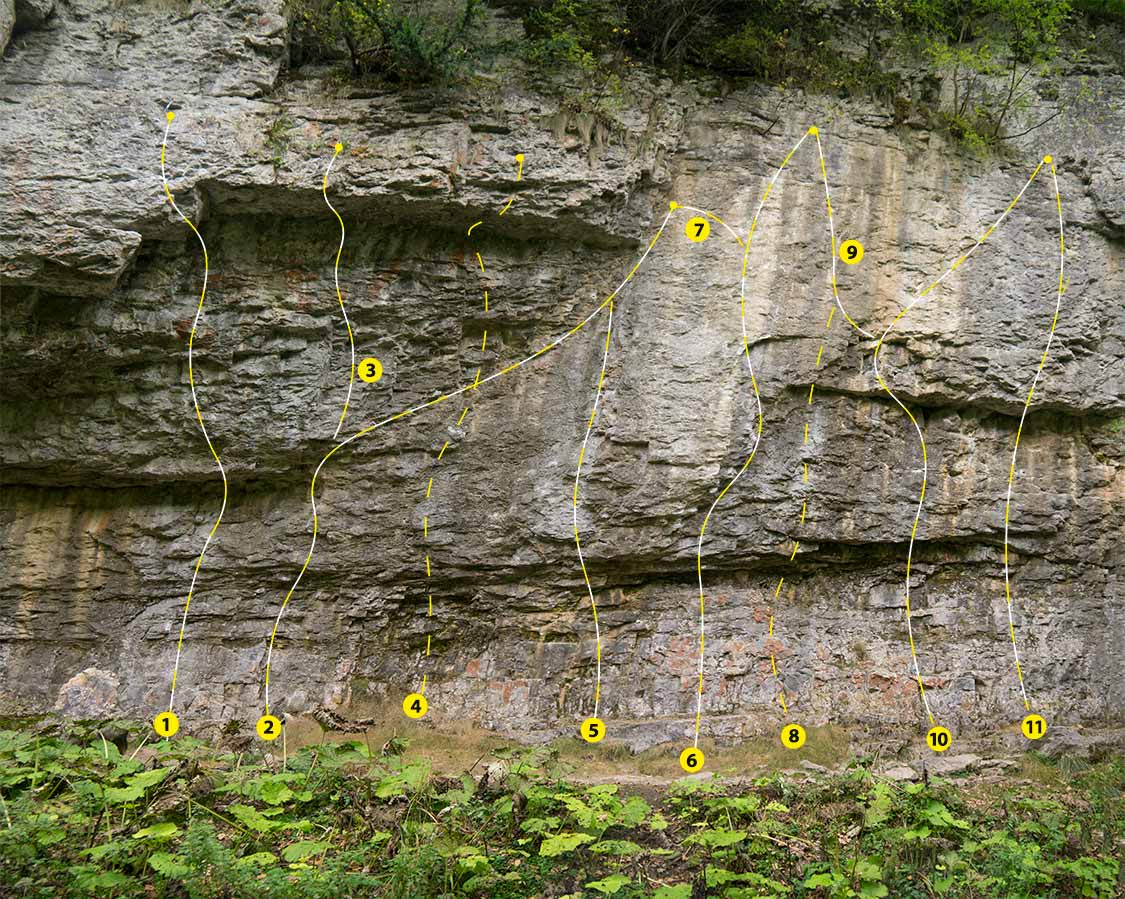 1. Cry of Despair (7c) ★★
Bouldery climbing through bulges. Easier with a carefully placed knee pad.
F.A. Chris Hardy 1990
2. That Was the River (7b+) ★★
A superb pumpy climbing following the rightwards line of undercut flakes.
F.A. Chris Hamper 1988
3. Rapid City (8a) ★
Continue straight up above the start of That was the River.
4. Streamline (7c+ ?)
This route has shed holds and not been reclimbed for years. Is it even still climbable and if so at what grade?
F.A. Mike Lea 1994
Tributary (8a+)
A link up climbing This is the Sea to the second bolt before launching out leftwards up across That was the River into the finish of Rapid City.
F.A. Hayden Jones 2016
5. This is the Sea (7c+) ★
A short route with powerful moves on good rock.
F.A. Mark Pretty 1988
6. Keep on Rollin' (7b+) ★★
Thuggy climbing up good steep undercuts leads to technical wall climbing above. This is the logical extension to the next route.
F.A. Mark Pretty 1988
7. Old Man River (7b) ★
The original route provides a slightly easier finish by exiting leftwards into the groove.
F.A. Gary Gibson 1986.
Dirty Old Man (7c+) ★★
Links the start of Old Man River into the finish of The Naive and Sentimental Lover.
F.A. Mark Pretty 2010
8. Project (??)
A hard start into Naive and Sentimental.
9. The Naive and Sentimental Lover (7c) ★★
Climbs up over the small roof to gain a hole then move out L and up the wall above. A fine but fingery wall climb and now harder since hold loss.
Mark Pretty 1986
10. Up the River Without a Paddle (7a) ★★
Follows Naive and Sentimental to the hole then move R and follow the undercut flake line up and rightwards. Great climbing.
F.A. Gary Gibson 1984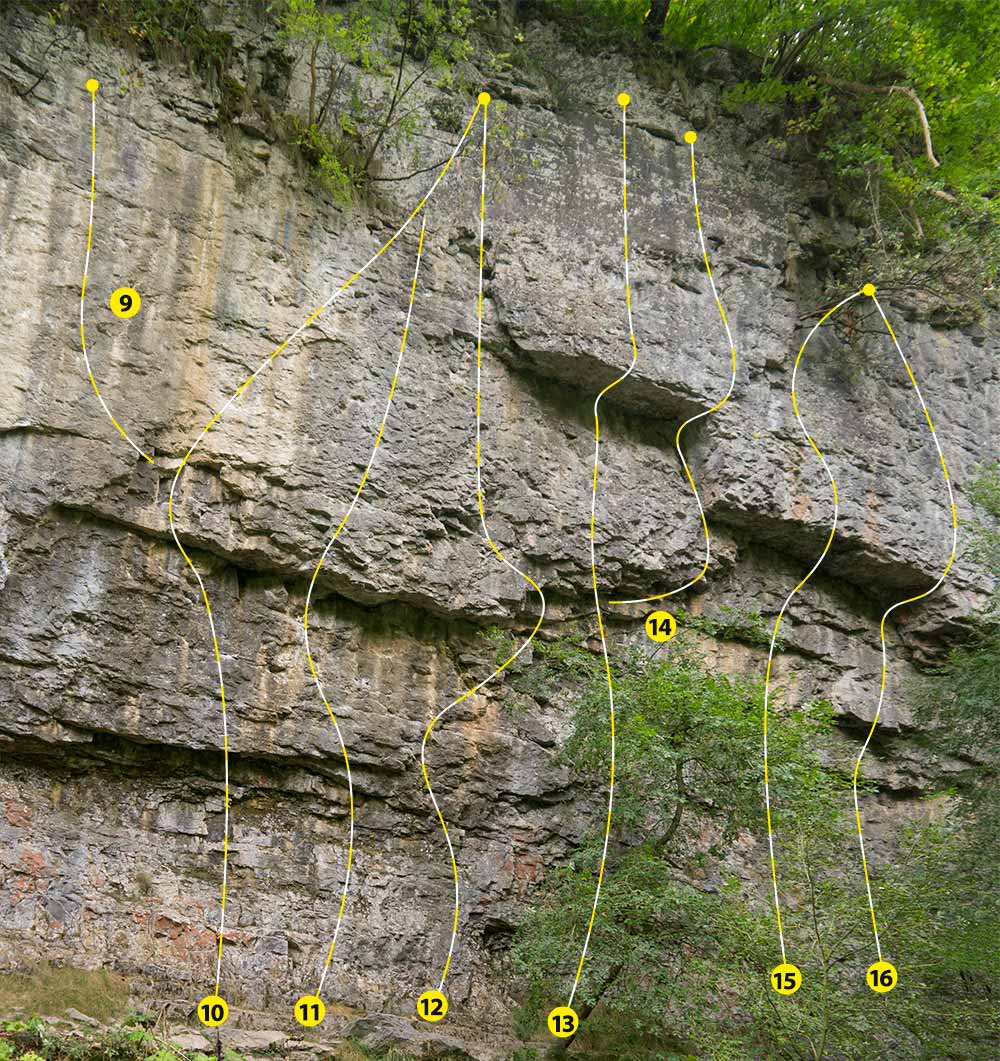 11. Snails of the Riverbank (7b) ★★
Another fine climb with two hard overlaps and a fingery wall.
F.A. Gary Gibson 1986. Dt start added by Ian Dunn in 1997
12. The Spiders from Mars (6b+) ★
An old route now cleaned, bolted and free climbed.
F.A. Neil Molnar 1983
13. The Monday Club (7a)
The two overlaps and a fine clean headwall.
F.A. Chris Hardy 1989
14. Trampled Underfoot (6c+) ★
Better right-hand variant finishing via thin crack.
F.A. Chris Hardy 1989
15. Gardener's Question Time (7a)
Hard wall to overlap, then easier.
F.A. Seb Grieve 1994
16. After the Goldfish (7b) ★
Desperate moves and a long reach through the overlap.
F.A. Gary Gibson 1986
Crowd Control (7c) ★
This route is parallel to and just to the right of After the Goldfish. Climb up to then over the small roof to a sea of roundedness above. Join the previous route a few metres below the bolt belay and finish as for that route. You can avoid the roof by starting up Une Crime Passionel instead at 7a+.
F.A. Keith Sharples 1989