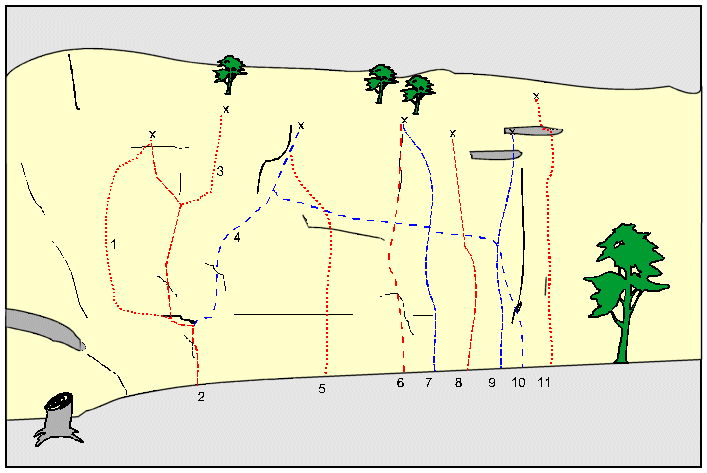 These routes start where the main tourist track branches off down to the river.
1. Unleashing the Wild Physique (8a) ★★★
A brilliant technical exercise taking a sweeping line up and leftwards. Small holds, crimp, crimp.
F.A. Mark Pretty 1986
2. Cosmopolitan (7b+) ★★★
An old classic with fine climbing and a bold exit.
F.A. Gary Gibson 1985
3. Cordless Madness (7c) ★★
The hideously thin direct finish to Cosmopolitan.
F.A. Nigel Slater 1989
4. Mandy (7b+) ★ A powerful series of moves to a jug and easing above.
F.A. Mark Pretty 1986
5. Flowers in the Dirt (7b) ★
Direct fingery line, bold in its central section and possibly a good bit harder since loss of holds.
F.A. Keith Sharples 1989
6. The Third Order (7b) ★
Desperate moves to exit the niche. Fine above.
F.A. Gary Gibson 1985
7. Loco (7b+) ★
A hard boulder problem route through the bulge. even harder and reach dependent to the right.
F.A. Gary Gibson 2002
8. To Pumpy for Grumpy (7b+)
Another powerful boulder problem. Bolted on ring hangers mark the line.
F.A. Nigel Slater 1989
9. Further Adventures in Greendale (6c/7a) ★
A steep start L of the obvious R facing corner. At the top you can either climb direct as the original route did (7a), or avoid the difficulties with a minor detour out left (6c). F.A. Keith Sharples 1989
Old Man's Adventures (7a) ★
Climb the obvious corner just R of Further Adventures… At the top go straight up as for the direct version of Further Adventures….
Gamman (6a+) ★
The easiest route on the crag. Climb the corner as for Old Man's Adventures but at the top move left on undercuts into The Corniceman and finish up that.
F.A. Jammie Sparks?? 2020
10. The Cruel Sea E5 6a
Another big sweeping line leftwards and finally up. Good. Different.
11. The Corniceman (7a+) ★★
Fine and varied climbing with a powerful start and technical higher up.
F.A. Gary Gibson 1986