Two sections at the far end of the lower quarry provide a handful of quality routes. Their only true distraction is their north-facing nature, otherwise they are well worth a visit.
The Left-hand Walls
Characterised by a prominent arete and a superb clean sheet of wall.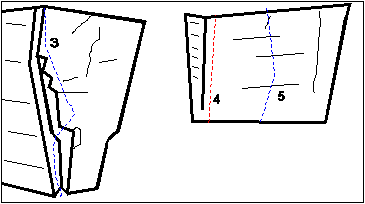 1. Horn of Plenty (6a+) groove and short wall above, BB.
2. Magellan's Straight (6b+) short overhang, groove and centre of tower.
3. Bas Chevaliers E3 5c ★line based on the prominent arete via the lower roof and short smooth wall.
4. Hush Money (7a+) ★ the left arete of the smooth-looking wall.
5. Contraband (7c) ★★★ brilliant technical face climbing. Fingery and continuous.
The Right-hand Walls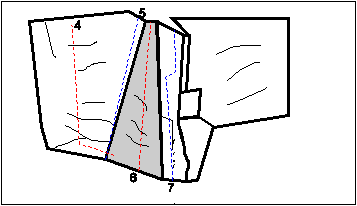 The prominent open corner-line of Exhumation is clearly visible from the opposite side of the quarry.
4. Boston Strangler (7a+) the smooth-looking wall left of the corner from 6m up that route.
5. Exhumation Corner E3 5c
6. Expense Account (6b) the centre of the right wall of the corner.
7. Balance Sheet E3 5c short groove in lower wall and obvious groove in upper arete.