PLEASE NOTE: There is a voluntary bird ban on this section of cliff due to nesting Peregrine Flacons. This lasts from 15th February until 15th July.
These are the next set of wall running leftwards from the Fudd Walls and consist of a series of periods with groups of routes upon them. They end at a more continuous section of rock and the DM Walls.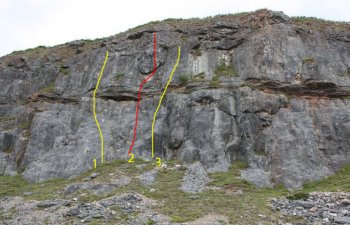 1. Cwm Over Yr (4) the slab and blunt rib above
2. Yr, Yr, Yr (6a+) shallow scoop and short tricky wall above prominent overlap
3. A Rare bit of Welsh (5+) tricky start followed by pleasant face and rib.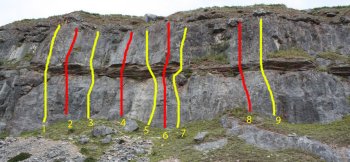 1. Dai Laughing (5) ★ pleasant slabby face and rib above.
2. Bath in the Taff (6a) ★ slabby face bulge and excellent groove.
The Valley's Initiative (5+) shallow groove, overlap and easier wall above.
3. Cwm all ye Faithful (5) slabby wall and face above.
4. Cwms the Farmer (6b+) easy slab and tough overlap.
5. Help, Help me Rhondda (6a+) left side of slab and overlap.
6. Do or Dai (6b) easy slab and difficult overlap.
7. Cwms the Snow, Man! (5) slab and rib, overhang and blunt rib above.
8. Free Wales (4) ★ slabby face and blunt rib right again
9. The Welsh Wizard (4) slabby face and right-hand rib of two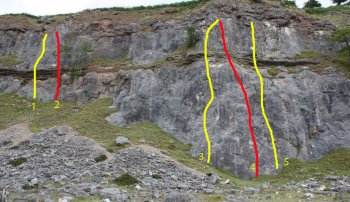 1. A Dim View of Things (6a) left-hand side of overlap with blunt rib above.
2. Canal Canol (6a) ★ right-hand side of face with overlap just left of tree.
3. Over Yr, on my Heddlu (5) shallow groove and rib moving right to belay.
4. Christmas goes Crackers (5+) ★ long slabby wall with short central rib.
5. Adrafelin What? (5) shallow scoop and blunt rib above ledge.