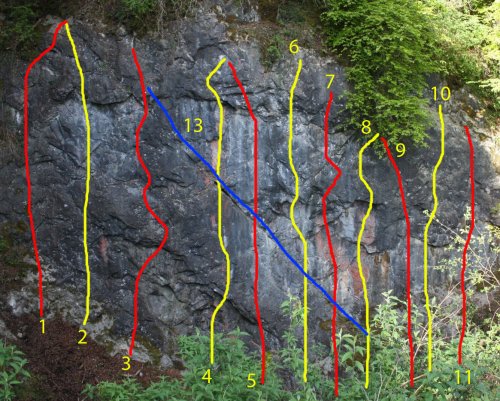 A very fine wall that has suffered the ignominy of misuse. Compact, technical face climbing abounds and all the routes are worthwhile. Can suffer dampness after rain and in humidity.
1. The Creaming Dream (6c+) ★ a good intro to the wall. Slabby and technical
2. Ice Cream Sunday (7a) ★ very technical climbing with a stubborn finish. Hard. Rebolted.
3. Scream for Cream (7a+) ★ thin and technical at the start, quite vicious really. Needs rebolting. Rebolted.
4. Trailblazer (7b) ★★ in many ways the route of the wall. Sustained and technical with a difficult rightwards finish. Rebolted.
5. Sink or Swim (7a+) ★ sustained and airy climbing with a blind finish. Gold BRs.
6. Security Plus (7b) ★ strenuous climbing on undercut holds. An easy start but difficult and complicated above. Rebolted.
7. Project
8. Norman Normal (7a) ★ bold start and hard finish. Just merits a French grade, worthwhile all the same. To be rebolted. Norman was never nothing more than normal! Rebolted.
9. Project
10. All's Well (6b) ★ the warm up for the wall giving a very pleasant pitch. Rebolted.
11. The Bitter End (6b+) squeezed in onto the end of the wall. A tough crux. Rebolted.
13. Taffy Duck E3 6a ★★ the diagonal crackline across the wall starting from All's Well. As good as any on the wall. Mostly situ gear.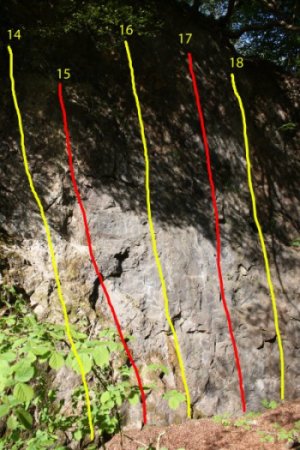 14. Tinker's Dog (6a) the left-hand route is pleasantly sustained
15. Full Metal Jacket (6b) steep finale to finish at ledge.
16. Any Old Iron (6c) pleasant face to steep finale.
17, Rag and Bone (6b) pleasant face and steep finale
18. Knackers Yard (6b+) right again finishing up crack. Needs regearing.
19. Sustainable Development (5+) pleasant face to steep finale.