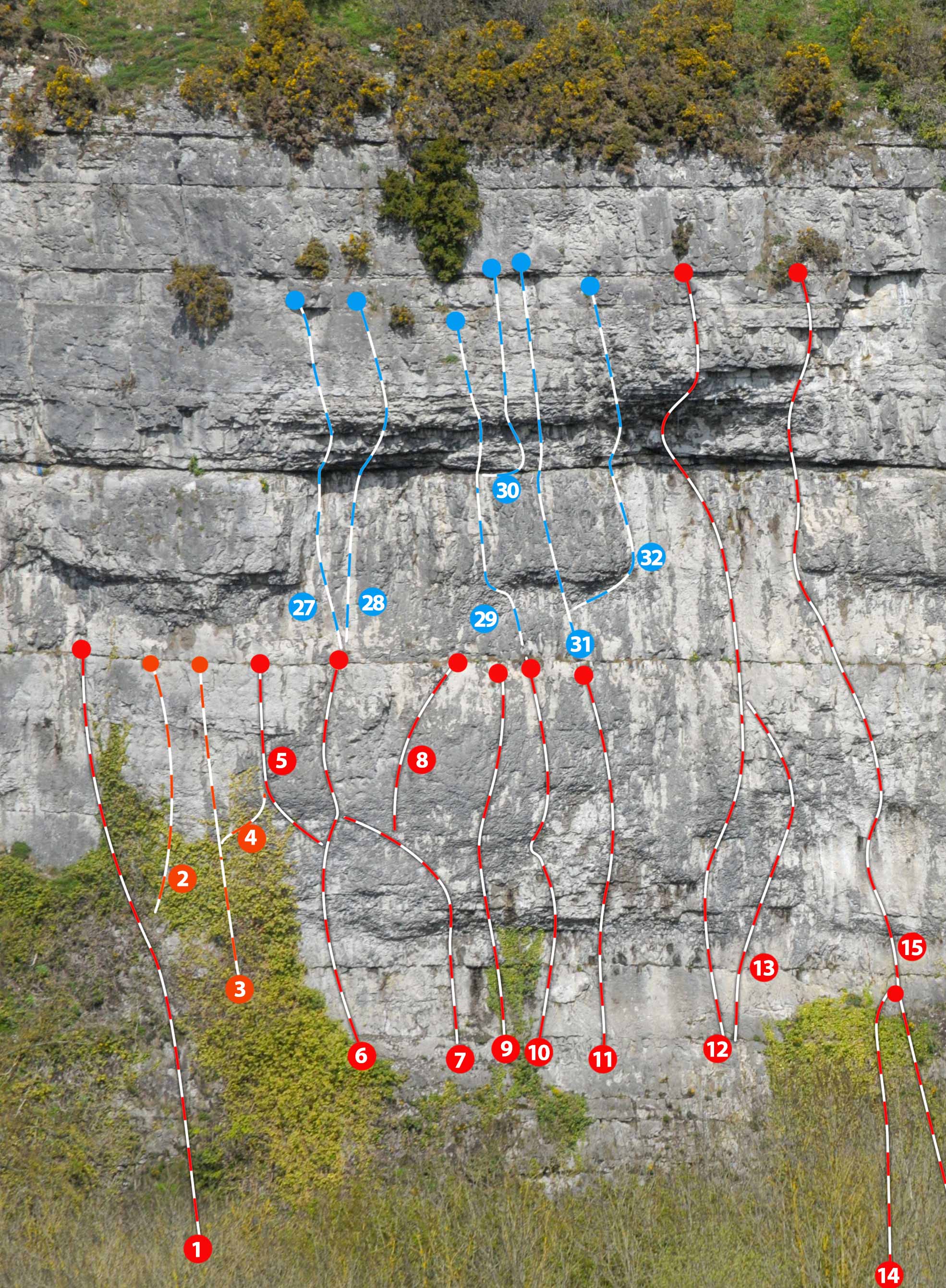 Lower section
1. Turf 'em Off (6b+) Easy lower wall right of Rippemoff to excellent steep wall.
2. Glue 'em Back (7b) leftwards line via intricate wall from left end of terrace.
3. There May be Rubble Ahead (7b+) unbalanced climbing with a desperate crux.
4. Rubble Rouser 7c+ a hybrid route that breaks out right from the There May Be Rubble… to finish up Dig Deeper.
5. Dig Deeper (8a) ★ leaves Dig for Victory at it's third bolt via a pocket to gain and sumount the difficult bulge above.
6. Dig for Victory (7c) the left most line from the ledge. The left-hand variant is Dig Deeper (8a).
7. Ozone Bozo (7c) ★ a tough problem from the left end of the ledge via a sling on a bolt. Originally finished up the tottering flake but much safer finishing up Dig for Victory.
8. Tollbar (8a+) ★★ fingery right-hand version of Ozone.
9. Double the Rubble (7c) ★ the gently overhanging wall to the right.
10. Trouble with Rubble (8a) ★ short intense sequence on obvious line.
11. Big Apple (8a) ★ the faint blunt rib gives a fingery exercise.
12. Little Plum (8a, 7b+) ★★ the old classic with a desperate, boulder-problem lower wall and fine roof finale.
13. Ming the Merciless (8a+) ★ the first bolted line right of Little Plum
14. Smoothlands (6a) short lower wall warm up
15. Virgin King (7b) ★ A logical link up of some older routes takes the best climbing up this part of the wall. Start up Lowerlands or Smoothlands and continue up the steepening wall moving L then up to ledges. Continue up through bulges above. 30m.
Upper section
The following routes can be climbed as extensions to lower pitches or routes in their own right.
27. Do You Dig It? (7c) The lefthand extension above Dig Deep for Victory.
28. My Middle Name is Rubble (7c) The righthand extension straight through the bulges.
29. Golden Delicious (8a) The extension to Trouble with Rubble.
30. If You're Looking for Rubble (8a) Follow Golden Delicious to the break then traverse right a short way then climb straight up through the bulge.
31. Crankerdown (8a) Start from the top of Big Apple.
32. The Big Leap Forward (8a) From the top of Big Apple climb up and move right under the bulge. Climb up to the break and through the bulges above.