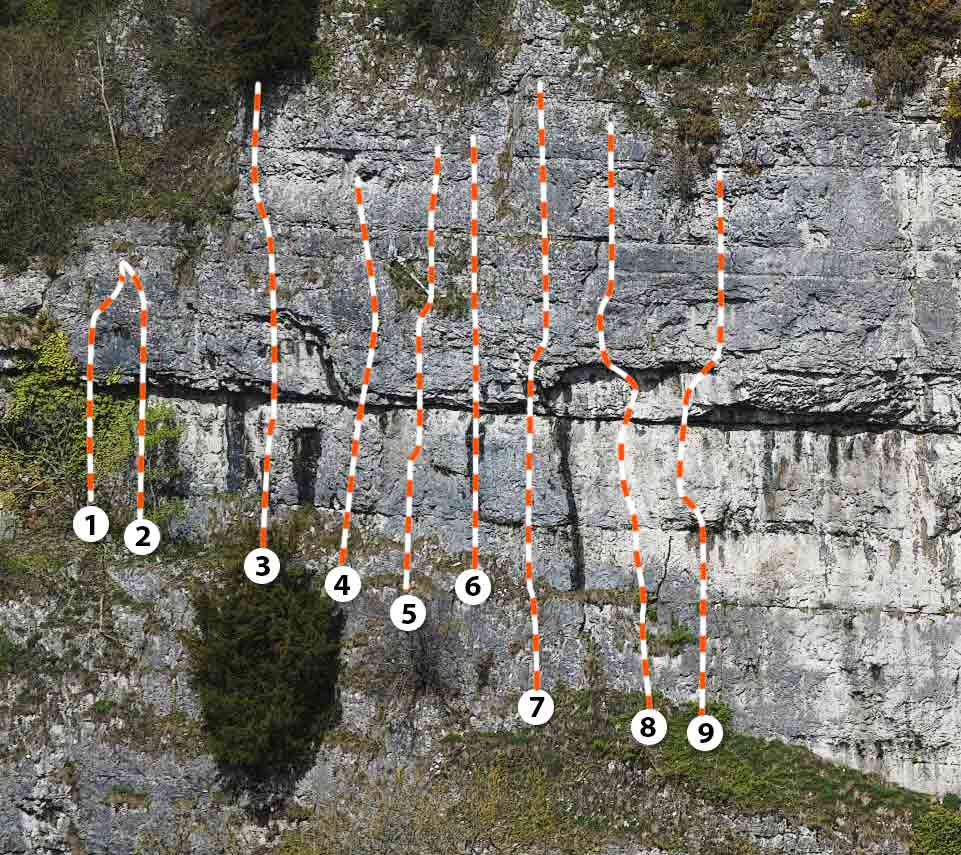 Access to the first eight routes is gained by climbing the initial ledgy section of Rippemoff to the ledge and from its left end, utilizing an in-situ rope to gain access to the trees on the left and the belays of all of the routes. There is an abseil station on the clump of trees at the end of the rope.
1. Trigger (7a+) a desperate sequence through the left-hand bulge at the back of the bay.
2. Two Ton Ted from Teddington (6b+) the right-hand bulge is a little tamer.
3. Knockin' on the Bread Man's Door (6c) a series of overlaps provides the difficulty onto a relatively straightforward headwall.
4. Bohemian (6b+) ★ a finer and more sustained line with a short tricky section from the break.
5. Empty Cartridge (6b+) ★ excellent climbing with one hard pull above the break.
6. Unloaded (6c+) a tricky bulge and long move on the headwall.
7. Reloaded (6b+) ★ a surprising find with a tricky mid-height bulge and excellent headwall.
8. Matricide E4 6a ★ blasts straight through the centre of Matrix. Almost a sport routes and needs just a couple of medium wires at the top.
9. I Hate You (7a) ★★ a superb pitch with a tricky lower bulge, long reach through the overlaps and technical headwall.