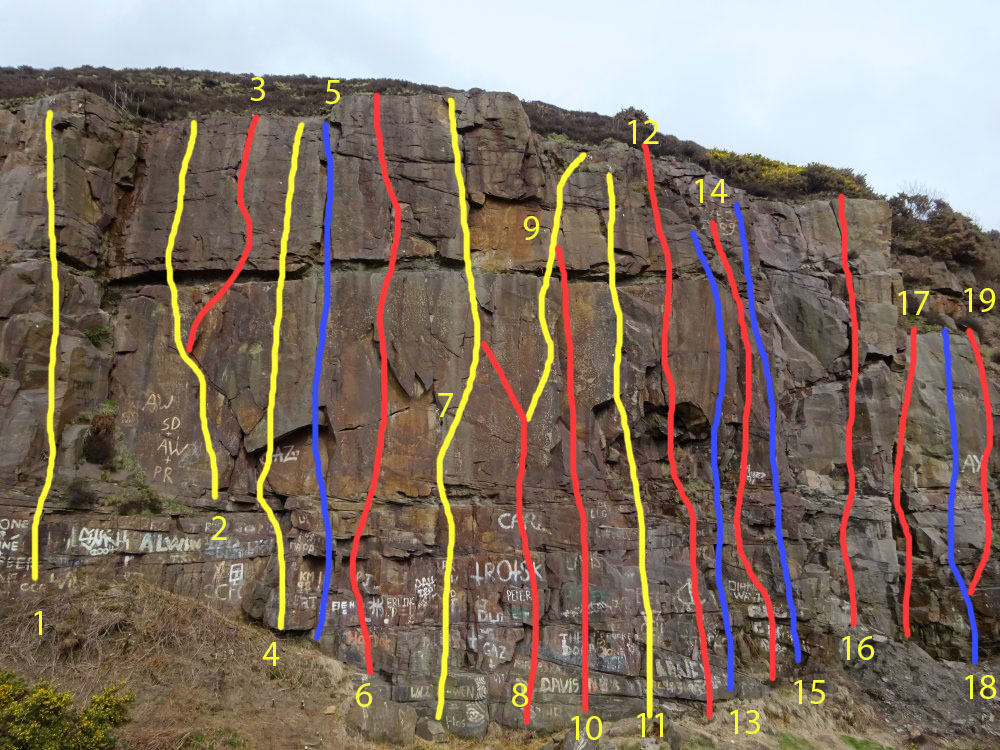 Community Spirit (5+) the pedestal and wall leading to ledge finishing in a groove
Ta-Ta Tata (5+) open groove and V chimney
CND (5+) layback finishing up right-hand side of arete.
1. Bone Hard Start (6a) a tough start then the left-hand side of the arete. The right side of the arete is Anne's Stiff Entry (6a)
2. Closed Shop E2 5c ★ Leftwards ramp and a series of thin cracks, PR. A good sampler of things to come.
3. Restricted Practices E3 5c ★★ Thin crack and wall with moves right into Closed Shop. Getting better.
4. Gaz 316 (6b+) ★ the face above the overlap. Excellent.
5. Crack Basher E3 5c ★★★ The obvious crackline provides the best route on the crag. Superb climbing, some say in the next grade bracket of the Es.
6. Sign of the Times (7a) ★★ Crack, flake and crack on the left at the top. The best of the hard routes on the crag with sustained face climbing throughout. Superb.
7. PR Job (7a) The direct start to Urban Development.
8. Urban Development (7a) ★ Another fine pitch climbing a series of leftwards-slanting cracks in the wall. Cruxy.
9. Fe 500 (7a+) a more direct version of Urban Development utilising the arete.
10. Writings on the Wall E3 5c Hanging groove and leaf of rock from start of Urban Development, PR. Pleasant.
11. Project
12. Split the Equity E2 5b Steep flake line above small cave.
13. Hot Mill (7a+) ★ Obvious line to the right via 3BRs to BB. Technical
15. Pig Iron (6c+) the shallow groove system. Grit with bolts!
High Jinx (6b) the crack right of Pig Iron gained from the same start
Mudlark Crack (6a+) often wet crack right again
16. Schmisse (6c+) the corner and sinuous crack system right again
Industrial Relations E1 5b Corner and crack line in tower.
17. Chain Reaction (6b) the slabby and gnarly groove.
18. Cold Rolled (6c+) Isolated, steep slab on right
19. Nether Edge (7b) Short arete with desperate rock-over.