Introduction
An alarmingly overhanging wall with a handful of excellent steep test-pieces. Compliments both Fox Hole and Watch House Crag.
Approach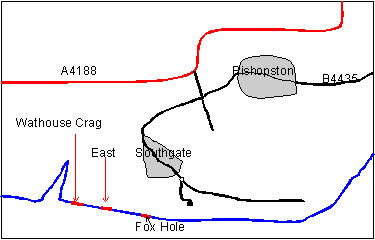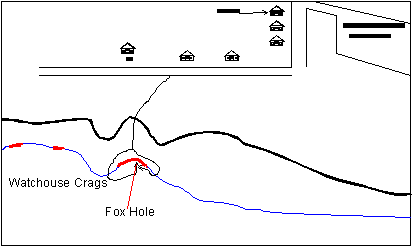 From the parking area at Southgate, follow the road westwards until the last house and break out across the plateau to its edge. Drop down the eastern side of a promontory keeping to the eastern edge of a sharply-cut zawn. Once a rocky platform just above the tide level has been reached, traverse back to the east to find the crag in the first zawn gained.
Do not climb here two hours either side of high tide.
Topo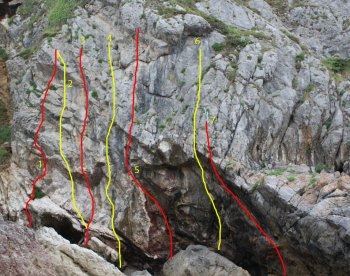 1. Straining Pitch (6b+) ★ a steep start leads to easier climbing on big holds. A short slab leads to an overlap finale.
2. Project
3. Jump to Conclusions (7a) ★ direct up the wall with a big move through the overlap via a flat hold
4. Pump Action (7a+) ★ climbs the blanker-looking section of wall with final difficult moves over an overlap.
5. Clip Joint (6c) ★ a superb little route via the red-stained groove with a crux exit. Easier slabs above.
6. No Rest for the Wicked (7a) ★ the left-hand of two pumpy problems starting from behind the boulder and not touching it.
7. Name not Known (7a) ★ a leftwards line across the overhanging wall keeping just off its right-hand arete.