These are the series on walls just beyond Castaway Cove and can be reached up to 2-3 hours before low tide.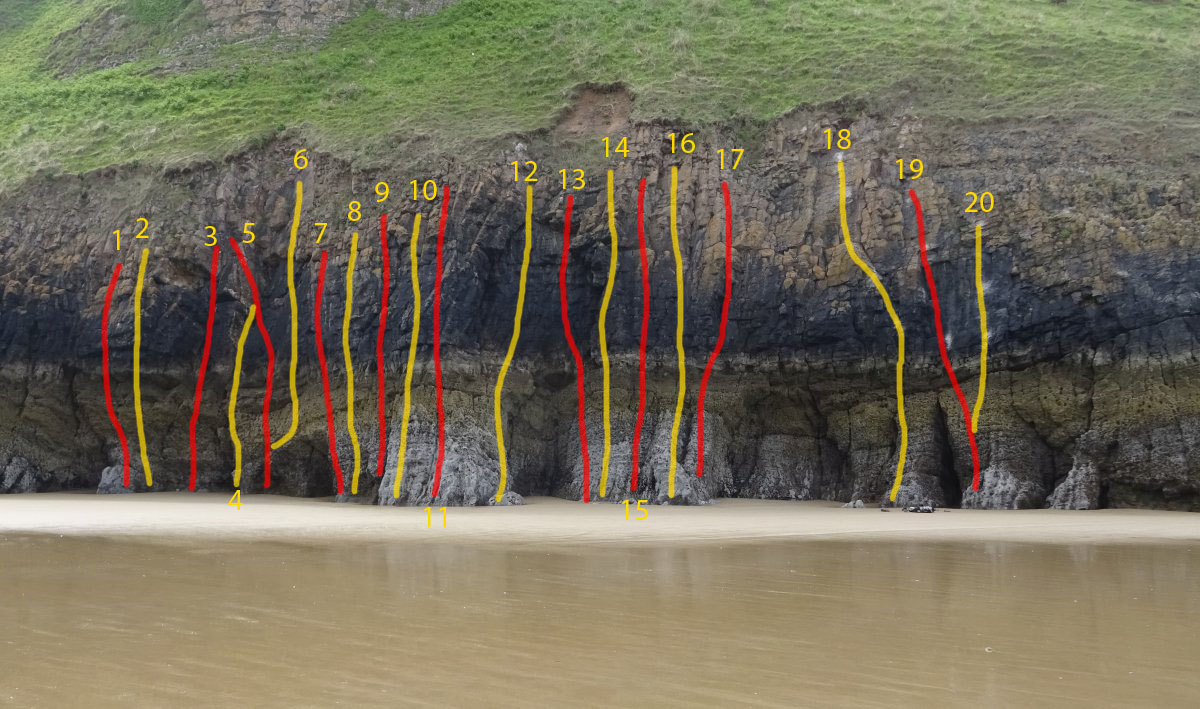 Bored of Toad Hall (6a) an isolated slabby face with a steep start
1. The King's Shilling (6b) an overhanging crack full of barnacles to start
2. Captain Jaque Hoff (6b+) ★ the fine overhanging line right again
3. Concrete Cows (6a) starts up a corner via a tricky overlap
4. Smeaton's Stump (5+) gain the corner from the right and easier ground above
5. Good Ship Venus (5+)the face right of the corner moving left
6. Lamisil (6a) ★ crack, overlap and short headwall.
7. Zetuwit (6b) ★ immaculate black wall
8. Atraumen (5) shallow black groove
9. El Cino (4) shallow groove
10. Frappucino (4) shallow groove and prominent black slab
11. Pure Cino (4) ★ excellent blunt rib and face
12. Giraffacino (5) easier slab and final overhang
13. Elephantacino (6a) another black slab and overlap
14. Catapult (4) ★ the square cut rib
15. Shengen (4) ★ the wall right again
16. Border Control (4) ★ the fine wall right again
17. Checkpoint Checkout (5) ★ the fine slim black groove
18. Andre Marriner (5) ★ the faint black groove gained from the left
19. My Maid's Mermaid (5) the short black corner
20. Marinieri (6a+) the black wall right again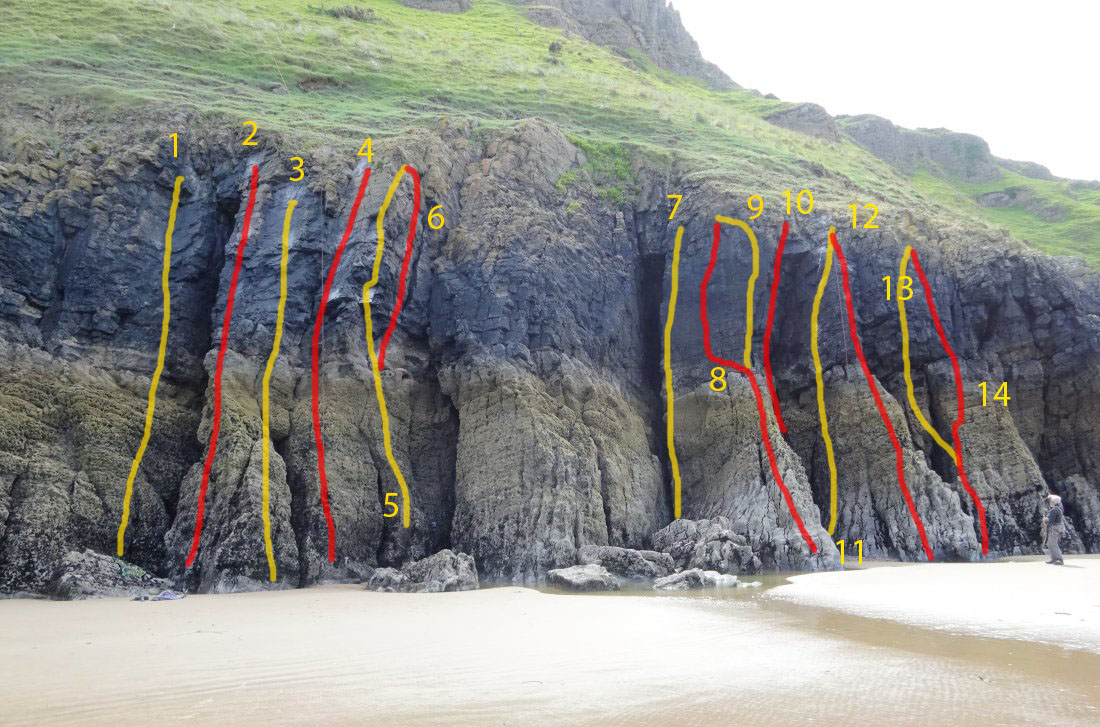 1. Black Sea Shanty (5) easy wall to pleasant shallow groove
2. Sea Shanty Rib (4) blunt rib to tricky clip of belay
3. Seaman's Sea Shanty (5) arete and shallow groove
4. Seaman in the Groove (5) ★ excellent shallow groove
5. Them's be Barnacles, Them's Be (6a) ★ excellent arete finishing to belay on right
6. No Tar (5) good right-hand variant
7. Operation Seaman (5) right arete of chimney
8. Me Harty's (4) pleasant rib and fine black wall
9. Seaman Limbo (6a) excellent right arete of wall.
10. Kickback Tar (4) wall and shallow black groove
11. Barnacle Thrill (6a) ★ fine sidewall of chimney
12. Whispering Whelks (4) ★ pleasant blunt rib
13. Pump my Bilge (6a) ★ wall and overhang tucked into back of recess
14. All Hands on the Stop Cocks (3) easy wall and pleasant rib.