Approach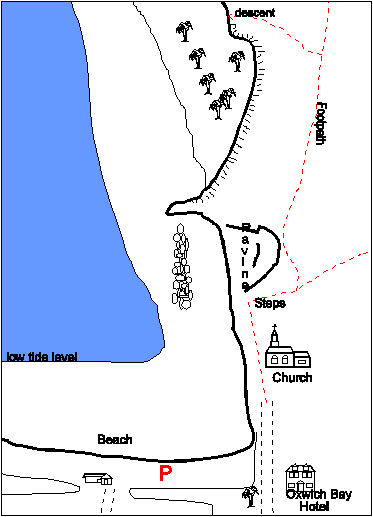 Firstly locate Oxwich Bay, clearly signposted from most routes onto the Gower and park on the beach (£2 at the time of writing). From here there are two alternatives:
If the tide is out, contour the right edge of the beach until the crag is visible on the right after a short spur of rock. Access is then obvious.
Should the tide be in, follow the track past the church and after climbing a short set of steps branch off left. The track traverse the lip of a ravine and then breaks off into the forest After 400 yards trend down and leftwards, vague, until the cliff edge is gained and a small gully can be descended to the end of the cliff.
Access
Much work has been done by Eugene Jones in gaining access. At the time of writing please do not climb left of the routes described, respect all projects and use only stainless steel bolts or 'staples'.
It is imperative that these issues be followed together with not fouling the area with litter and bad language, scenarios with which climbers are so often accused.