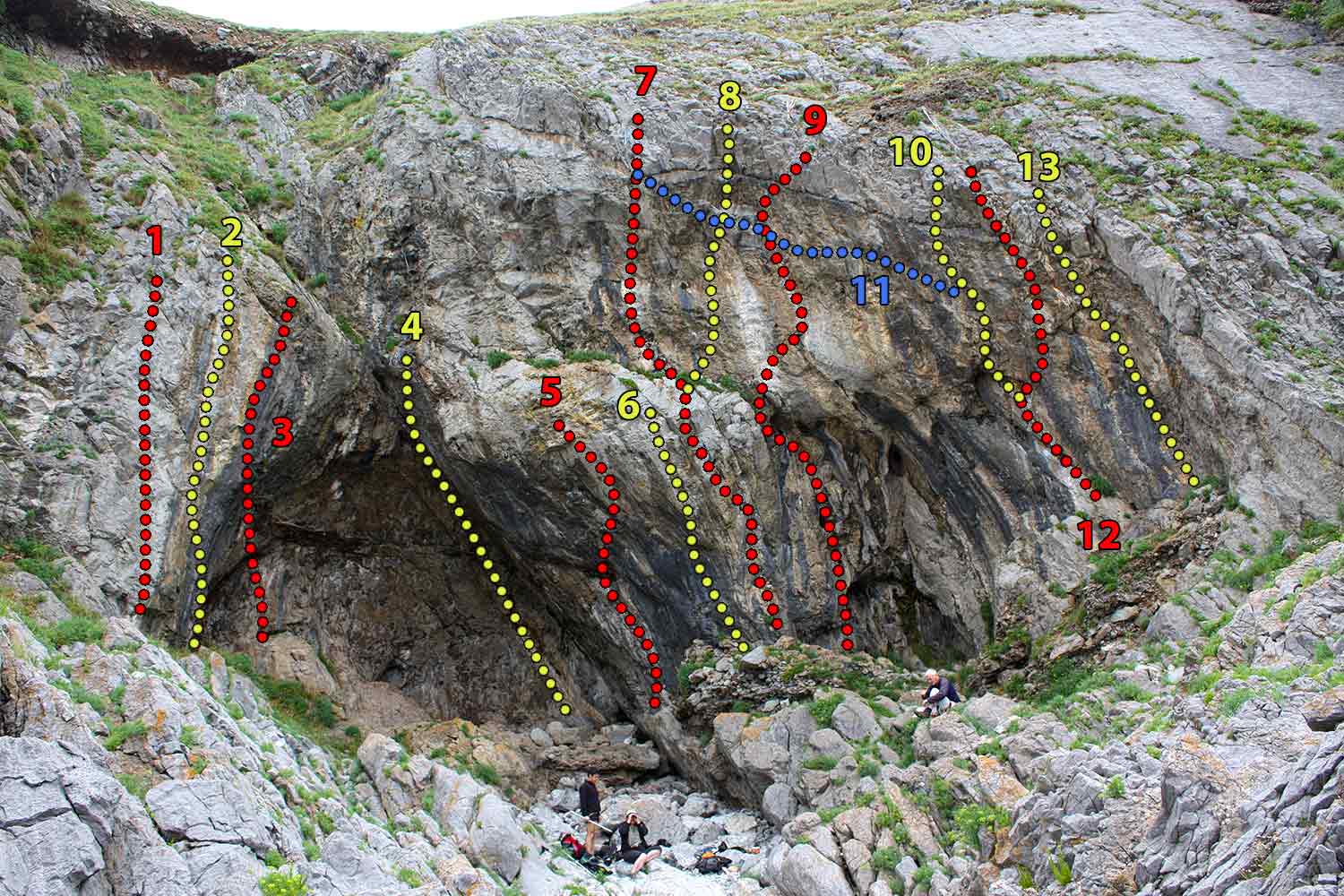 The Routes
The crag forms a large cave towards its left-hand side, the first routes being on the prominent grey pillar.
1. Unlikely Alliance (6b) ★ steep open climbing. A good warm up..
2. Connard Canard (7b) ★ very steep line up a grey streak. Two hard moves compliant on a long reach and a strong left arm.
3. Goose 'n Lucy (6c+) ★★ magnificent jug pulling up the right-hand side of the pillar, almost in the cave. A hard start and complex finish.
4. Pioneers of the Hypnotic Groove (7b) ★★★ brilliant sustained climbing up the groove at the back of the cave. One badly placed bolt and lots of effort required.
5. Palace of Swords Reversed (8a) ★★ powerful. Two very vicious moves on the alarmingly overhanging wall.
6. Chicken Licken (6c+) short, sharp shock up overhanging arete.
7. Foxy Lady (7a) ★★ magnificent trad. route soon to be bolted. Will be 7a when done Can start up the Hooker to make a more direct route.
8. The Hooker (7a) ★★ another superb sustained pitch with a sting in the tail. Move left to the belay at the top. Originally started up Joy de Viva but direct this way.
9. Joy de Viva (7a+) ★★★ a magnificent direct pitch, sustained and fingery but still low in its respective grade. A long reach helps.
10. Power Play (7b+) ★★ a fine fingery pitch on crisp little edges and side-pulls. A long reach helps after a peculiar start.
11. Turkey Lurking (7c) ★★ leftwards exit from BR three on Power Play to the belay of Foxy Lady. Pumpy.
12. Ducky Lucky (7a+) ★★ superb climbing with a long reach or over-technical move. Still low in the grade.
13. The Day the Sky Fell In (6b+) ★ pleasant jug-pulling warm up on fringes of wall.