Approach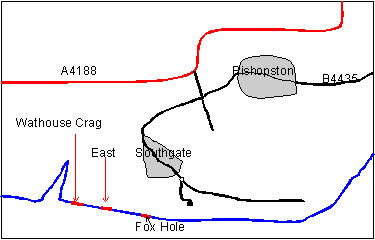 Follow the road through Southgate and locate the National Trust car park (£1.50 at the time of writing). From here, walk west along the small road on the edge of the houses for 250 yards and at house number 9 break left across the field to the edge of the plateau. Descend down between two grassy knolls via an obvious broad grassy gully until the cliff edge is gained, not easily identified except for the obvious recess in the bay and two stakes at its top.
From here there are two options: either traverse left (looking out) above the cliff and then descend a vague track to its right taking care not to dislodge rocks and stones or, better, continue slightly rightwards down an old fisherman's track and contour back left into the cliff. Either way, once the cliff is gained it is completely non-tidal and gear can be left at its base without any problems over theft.
Access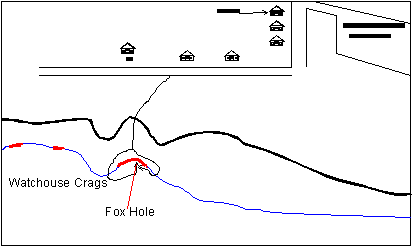 At the time of writing no access problems have arisen in gaining the cliff nor has there been any incidents of theft or similar. However it is important to remember that no routes are to affect the conglomerate rail in the cave nor is there to be any gardening of the rare mosses hereabouts.