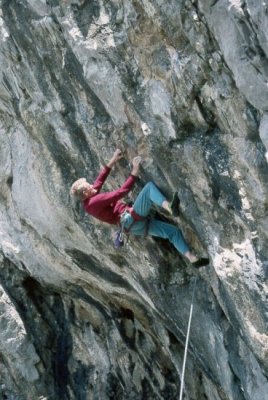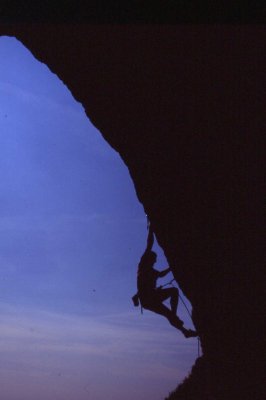 In the guidebook this impressive little crag gets Barely a mention yet now provides some of the areas toughest little routes. Set in the back of a cave with overhanging side walls, the cliff looks somewhat innocuous yet on closer inspection offers perfect rock, easy access and a very pleasant access just like a cliff on the coast of Mallorca.
Initially discovered by John Bullock who gave the cliff its original climbs it lay dormant until the inevitable onslaught by Martin Crocker and more latterly Roy Thomas. The cliff also attracted the attentions of Goi Ashmore who provided the areas hardest route. The occasional additional route has been added since.
The cliff is easily reached by travelling westwards from Southgate car park and at house number 9 breaking left and down between two grassy knolls via a broad grassy gully to the cliff edge. The cave system below can then be gained by contouring left or right and scrambling carefully down to the cliff base.
What's the climbing like?
With the cliff in the form of a cave all of the climbing is just over the vertical with excellent tufa systems, weather-worn holes and pockets and some strangely welded (sanded) together holds. The pitches require a variety of techniques with little respite and all seeming much longer than their length.
When should I go there?
The cliff can take a lot of seepage due to it lying below a natural run off and the main cave area can remain wet all year round. With some good sunshine and a refreshing breeze the cliff dries relatively quickly, especially on its flanks. Avoid hot sunny afternoons as the cliff can prove to be a cauldron in such conditions. but remains non-tidal throughout.
Route update:
Foxy Lady and the Hooker have been bolted and are both climbed direct without crossing over, the former now starting up 'Chicken Licken'

.
Which are the choice routes?
The two original routes still remain two of its best but all of the routes are good. Ducky Lucky (7a+ ★★) and Power Play (7b+ ★★) exit right and left from a small cave on the right of the cliff. Joy de Viva (7a+ ★★) takes a superb direct line right of the Hooker. Pioneers of the Hypnotic Groove (7b ★★★) takes the back of the huge cave via an obvious groove and Goosey Lucy (6c+ ★★★) the wall to the left. The crags piece de resistance is the impressive overhanging line of Palace of Swords Revisited at 8a ★★.
Anything left for me?
Well there are still a couple of major projects underway: please respect these for those who are trying them. There may be the odd morsel left.