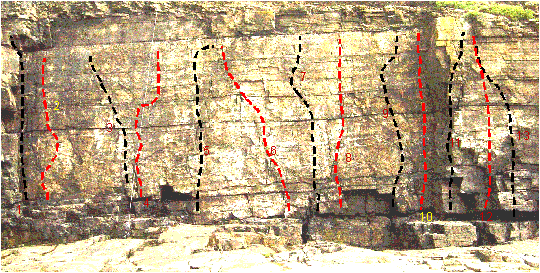 1. Unnamed VS 4c The corner, obvious by name
2. Barnacles at Dawn (6c) ★ easiest on the wall with a balancy start, an awkward move left and a crank for the top. Suffers seepage.
3. Pray for the Cray (7a+) ★★ slightly leftwards trending crackline with culminates in the final difficult pull
4. Lobster Bisque (7b) ★ another vague crackline which is OK until the desperately fingery finale.
5. Oyster Party (7a) ★ a super little wall climb with technical moves away from gear at the top. Belay on right.
6. Vladimir and the Pearl (6c) ★★ the central line of the wall leftwards via a prominent crackline.
7. Shellin' Out (7b) ★★ another relatively sustained affair with a sting in the tail.
8. King Prawn (7a) ★ a series of thin cracks with good holds until the last move.
9. Man or Mollusk (7b) ★ the final route of the wall, just left of the corner once again saves the hardest till last.
10. Telpyn Corner HVS 5a Obvious by name
11. Mussel Man (5) the arete on the right-hand side of the wall.
12. Moule Mariniere (6a) ★ the pleasant centre of the wall to the right.
13. Ma Moule Don't Like U Laffin (4) the easier wall right again moving left from the last BR.
30 metres to the right is a south facing wall set in a small zawn. This offers four worthwhile routes:
Taxi to the Ocean (7a) ★★ the impressive left-hand arete, gained from the left before transferring onto the overhanging side.
Diving for Pearls (6b) ★ the centre of the fine overlapped wall. Short but excellent. Jugs, jugs, jugs.
Sea Fairer (6a) ★ the overlaps above a groove start.
Glug, Glug, Glug (6a) the wall to the right utilising the same belay.