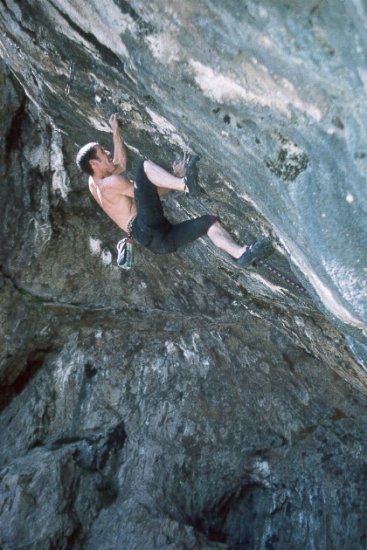 Goi Ashmore of Palace on Swords Reversed. Photo Carl Ryan
It will come as quite a surprise to many that sport climbing has become available in the Gower due in part to its 'traditional' flavour as well as its coastal aspect. This has been due to a couple of reasons:
In the late Fifties/early Sixties, one Jeremy Talbot had an open hand to development in the area and as well as establishing a number of popular classics of the area also established a number of routes which required a large amount of aid, including bolts. This leant the area its bolting precedent and since the development of sport climbing certain activists were invariably going to cast their eyes over new cliffs.
Subsequently in the mid Nineties a trio of new cliffs were discovered, developed and agreement drawn up between local climbers, the BMC, a number of landowners and nature conservancies to allow access to the cliffs. I therefore hope to increase the number of pages in this volume and likewise to the variety of climbing in the area. For further information on the cliffs included here contact:
Updates
Third Sister (23.6.19): A new lower crag with with a handful of lower grade routes. A new middle tier with some superb new finds and the excellent upper tier.
Sister Two and a Half (10.1.19) an excellent find with a number of good, though relatively short technical exercises on good rock with an fine outlook.
Ramsgrove Seaward Crag (21.2.18) another fine little venue overlooking a wonderful seaward outlet.
Silent Walls (19.7.17) another day another crag with a particular gem.
Calcite Bay (18.6.17) another new wall on the upper tier of the Trial Wall area, situated 200m beyond Black Crack right and before Sinners Walls.
Sinners Walls (updated 16.7.17) a new crag a little further along the coastline from Trial Wall with a bunch of worthwhile and easily accessible routes.
Morfa Bychan: (updated 14.6.15) a completely new crag with numerous new routes to suit all tastes and style.
Pwlldu Bay: (updated 13.5.2010) Newly updated with a plethora of new rotues. A truly idyllic setting straight from a magnificent beach. In the shade after midday.
Watch House Crag: (14.7.09) a super little slabby venue tucked into the bays to the west of Fox Hole.
Watch House East: (14.7.09) a handful of excellent routes on a steep leaning wall. The perfect compliment to Fox Hole and Watch House crag.
Oxwich Bay Crag: (updated 22.1.2004) probably the most impressive find on the Gower. A series of impressive walls springing from the sea give a wealth of fine hard pitches in the 7s. Into the forest leads to another batch of fine and hard climbs. The odd easier route can be found such as Kissing the Pink (6c).
Minchin Hole: Access now resurrected. No more bolting at the present.(Updated 2.10.10)
Fox Hole: (updated 21.1.2004) another classic venue full of routes from 6c+ and upwards. Steep stuff abounds.
Trial Wall: (updated 21.1.2004) an old haunting ground with a few classic trad. routes and two or three impressive sport routes.
Bosco's Den: (updated 10.2.2010) a new crag on the scene with a number of unusuall 'fused' pitches. Some fine trad. routes to come onto the sight.
Barlands Quarry: an inland quarry with a wealth of hideously technical slab routes.