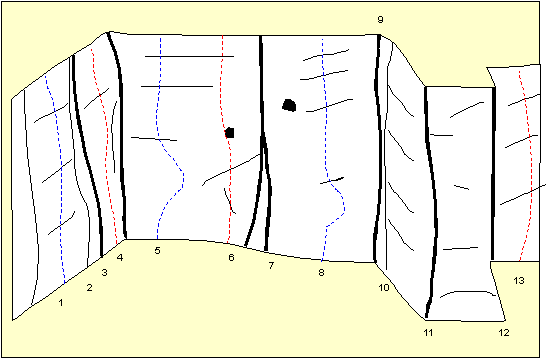 1. Newton's Apple E1 5b ★ very pleasant easy-angled face, 2PRs.
2. Dirty Girty HVS 4c Jam, jam, jam.
3. Acceleration due to Gravity HVS 5a the curving thin crack. Pleasant and better than its neighbour.
4. It's a Sine (6a+) enjoyable face left of large corner. The hue slimy corner provides the line of Trident.
5. Scared Seal Banter (7a+) ★★★ superb, overhanging wall climbing. Fingery and sustained.
6. The Mastick Mick (6c+) ★ a good intro to uphill country.
7. Cled's Crack E1 5a the wide traditional crack.
8. The Grouts of San Romano (6c) ★ technical 'match-edge' start to a steep finish. Friend 3 useful.
9. Brush Up HVS 5a the right-hand corner of the bay, PR.
10. Step Up E1 5a the obvious S-shaped crack, PR.
11. Godfather E2 5b ★ left-hand arete of tower. Airy
12. Up Yours! E1 5b ★★ the right-hand arete. Superb, photogenic etc, etc, etc
13. Smoothie HVS 5c tricky bulge and short wall.
Further over to the right are a couple of pleasant routes: Windy Ridge (E1 5a) is the obvious arete with a PR and O Solo Mio (HVS 5a) climbs a short wall on the opposite side of the gap. There a re a few other problems to sample in the area alongside these routes.