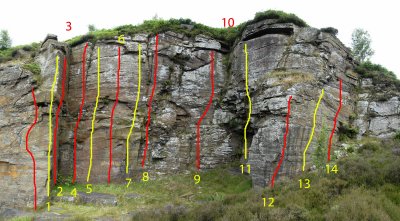 The bay at the right-hand side of the quarry provides a liberal smattering of routes with four of particular merit.
1. One Track Mind (6c+) ★ Fine arete. Now Bolted
2. Greased Balls (6b+) the left wall of the corner.
3. Rain and Tears E1 5b the corner. Unpopular.
4. Full Bag E2 5b crack striking right from the corner.
5. Controlled Emission (6b+) ★★ first line of BRs on the wall to the right. Fine climbing and quickly becoming a classic. Sustained where a long reach helps.
6. Sperm Wail (7a+) ★★ Fingery and technical wall with hidden small edges. Now Bolted
7. Scrotum Oil (6c) ★★ another well-bolted pitch fully gaining a popular status. Again a long reach helps on the hidden holds.
8. Naked Truth HVS 5a another traditional crack climb.
9. Pick up the Pieces (6b) pleasant climbing up the final slim wall. Back to BRs for this one.
10. Retro But In E1 5b the less obvious crack in the right wall.
11. Perfect Scoundrels (6c) ★★ excellent roof and arete. Pumpy through roof, pleasantly technical above. A good mixture.
12. Butt Out (5+)
13. Per Rectum (4+) via small towerStool Sample (5)
As it Is (5+) the final short arete with modern gear.
Turd Strangler (6c+)
Di Horrea (6b)