Left-Hand Buttress
A little down the hillside, towards the Lower Quarry, is a flat-faced buttress of around 9m in height. The two central routes offer well-protected climbing whilst the aretes are a bolder proposition. Good rock throughout with the odd peg runner here and there.
1. First there is a Mountain E4 5c bold climbing on the rounded arete. A pocket on the left may provide the key.
2. Trouble at Mill E3 5c ★ the left-hand line on the front face. Controversial PR.
3. Luddite E3 6a ★ the right-hand line on the front face. Another controversial PR.
4. Then There is a Mountain E4 5c y et more boldness up the right-hand side of the wall to reach the arete towards the top.
Right-Hand Buttress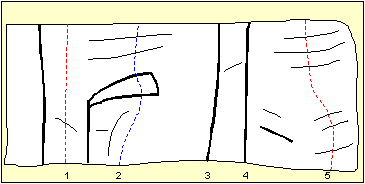 Working leftwards from the Upper Quarry a series of natural buttresses will be seen. The right-hand buttress offers some good climbing, though only the best routes are included here. Mostly natural protection though the odd peg runner is present.
1. New tricks E1 5c steep wall just right of crack, PR. Pleasant.
2. In Over My Head E3 6b ★ direct to and through rock fang. Very small holds. Technical
3. Mister Natural E1 5c obvious bulging crack.
4. Surprise, Surprise E1 5c natural crack with unnatural holds, PR.
5. Audio Pornography E3 5c ★ excellent flat-faced wall with PR. Relatively bold but excellent.