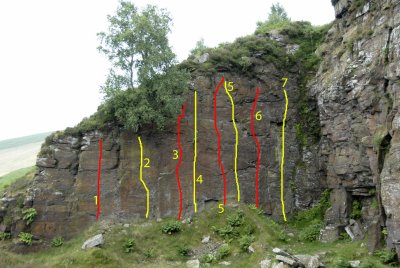 This fine wall, often gaining more sunshine than the rest of the quarry offers a series of worthwhile pitches in the lower end of the sport grades. The right-hand section of the wall can be slightly hollow but the abundance of in-situ gear renders this problem surmountable. A good place to learn 'sport climbing'.
1. As it Was VS 4c short wall on left. Describes the pre-bolt ethic, hence the name and gear: hinges, scrap metal, this one has the lot including an impressive scaffolding pole.
2. Mitsubisho E1 5c short wall with 2PRs.
3. Yikes (6b+) short hard wall. Problematic and snatchy on small holds.
4. So Uncool (6c) ★★ the best route on the wall. Fingery start, spotters advised, with sustained moves above.
5. Just Hanging Around E1 5b ★ excellent traditional crackline with BB on left. Standard rack.
6. Fluster (6a+) ★ first line on the wall to the right of the crack. Slightly hollow but pleasant enough.
7. Bluster (6b) ★ similar to Fluster, though not as technical on one move.
8. Marlin on the Wall (6b) ★ fingery and technical. The 'marlin' adds a new dimension to the word protection. Safer than a house.
9. Unnamed (6b) New line direct up wall.
10. Sumo no Shiro (6b+) another popular route up the green streak. Sometimes a little dusty and therefore not as good as the rest.