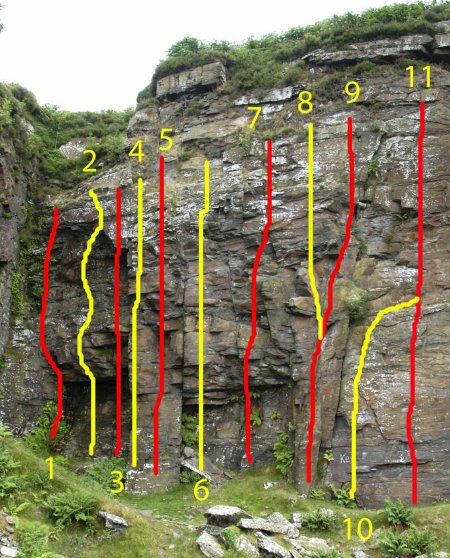 A fine area with a variety of excellent, easier sport routes via a series of pillars, walls and well-grouted roofs.
1. Canine League (6b) ★ first line through roof right of corner. Good climbing with a pumpy roof.
2. Sleeping Dogs (6b+) ★★ a superb route via the juggy handrail and the right-hand side of the roof. Classic.
3. Don't Bark Yet (6c) New line finishing via overlap
4. Smack yer bitch up (6b+) side wall of corner and face above.
5. Generation Gap E1 5b very pleasant climbing in traditional mode starting up the left edge of the pillar.
6. Mister Faraday (6b) ★ a good introduction to the cliff. A short stubborn start with fine climbing above.
7. A Poker in the Eye (6b) ★★ fine route, strenuous at the grade. Take the roof and storm the walls above.
8. Grout Expectations (6a) ★ pleasant easier line to the right.
9. Shackles of Love (6b) crack, wall and shallow groove to the right. Not outstanding.
10. Ring of Confidence (6b) ★ low-level flakes and wall on right to the top. Hollow high up but worthwhile.
11. Get Flossed (7a+) ★ squeezed in but quite a tough cookie if climbed direct. Avoid good holds on left at grade.