The crag now degenerates into a gully with a set of ladders in the back. Keeping at this level and 50m to the left brings you to a small buttress with a handful of routes. Worthwhile for a stop off to and from the main crag with two good routes. Trees are used for the descent points.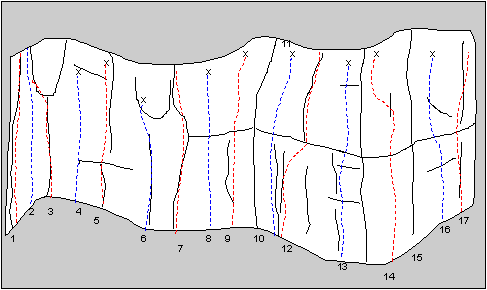 1. Top Cat VS 4c
2. Officer Dibble E4 6b
3. Unnamed VS 4c
4. ID Proof (4) short wall to right
5. Three Men, Two Girls and a Dog (3) cleaned slab with wide crack start
6. Will the Real Gary Gibson Please Stand Up (6a) overlapped arete started direct
7. Memory Lane VS 4c cleaned crackline throughout
Left Wall E2 5b climbs into a crack via a tight groove.
8. Who do you Think You Are? (6c) ★ tricky wall to right
9. Who do you Think I Am (6a+) ★ first line left of corner
10. The Corner VS 4b not a classic
11. Lordy, Lordy (6b) technical slab
12. The Gates E1 5b pleasant crack
13. Merthyr Bob (6b+) ★ technical and excellent
14. Old Smokie (7a) very thin and technical wall
15. No Big Cigar VS 4c crack
16. One Puff or Two (6b) technical start.
The Cuban (4) short wall and crack on right.