Left side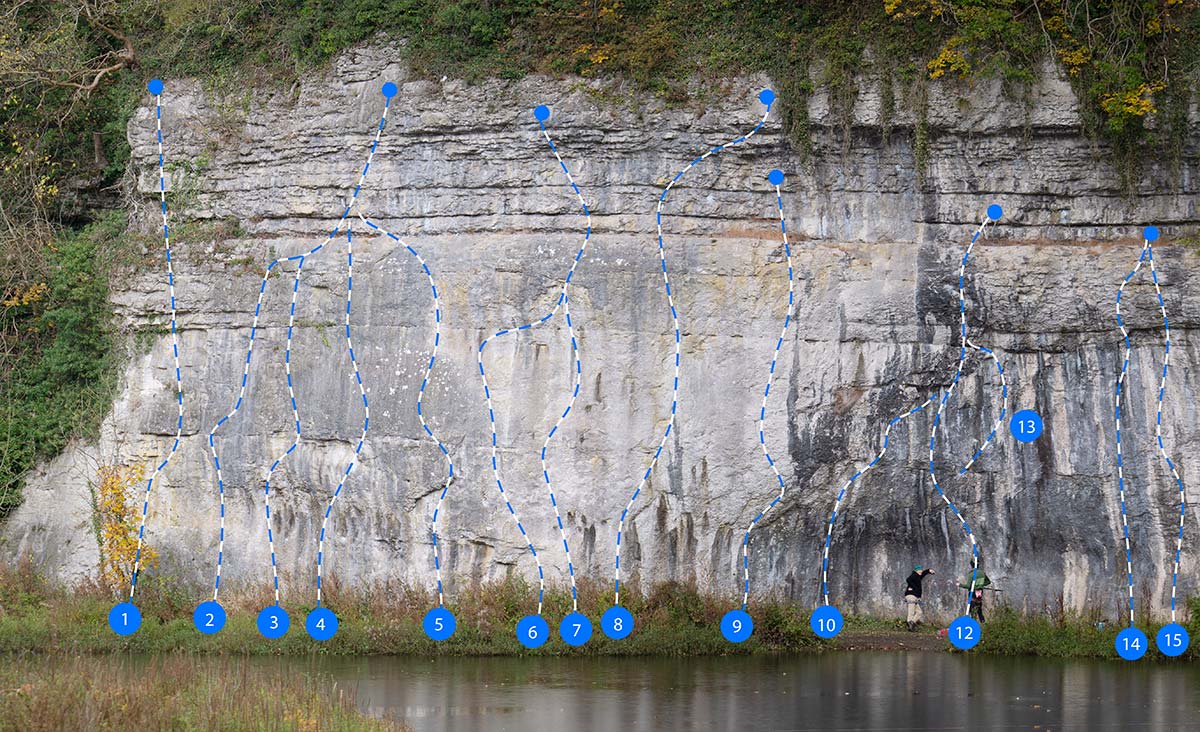 The main wall starts left of a large ivy patch and straight off of the main path.
1. Hare (E3 5c)
Wanders up the left-hand side of the face and needs cleaning.
2. Changing Fortunes (E4 6b)
A solitary peg to the right marks the line.
3. Chairs Missing (E3 6b) ★
The bouldery low bulge provides the meat of the route.
F.A. Ron Fawcett 1981
4. A Tall Story (E5 6c) ★
Hideous climbing to the right requires a mega reach.
F.A. Quentin Fisher 1983
5. Dragonflight (E3 5c) ★★
A super pitch via the flake and thin slab to finish via a flake.
6. Jezebel (E5 6a) ★★
Very thin climbing via the face to the right past a protruding bolt. Finish right via a faint flake.
F.A. Daniel Lee, Dominic Lee 1981
7. Kingfisher (E5 6c) ★★
A desperately fingery experience to the right. Use the bolt on Jezebel for protection.
F.A. Quentin Fisher 1985
8. Jaws (E5 6b) ★★
A beautiful classic of its grade to the right via an obvious peg.
F.A. Ron Fawcett 1981
9. Plectrum Maxilla Direct (E7 6c) ★
Highball to a bolt. Rumoured to be 8a. Unrepeated.
F.A. Malcolm Taylor 1992
10. Barracuda (8b) ★
A rightwards line across the wall. (Font 7C+)
F.A. Andy Haris 2008
12. Caviar (8a+) ★★
A classic of its genre with a very bouldery sequence.
F.A. Tony Ryan 1986
13. Beluga (8a+) ★
Breaks out of Caviar at the first bolt to rejoin it for the finish.
F.A. Jon Fulwood 2008
14. Eugenics (8b/+)
A desperate affair especially since the loss of a hold.
F.A. Mark Pretty 1993
15. Let the Tribe Increase (8a+) ★
A short, hard and problematic route that's also suffered hold losses over the years.
F.A. Quentin Fisher 1986
Right side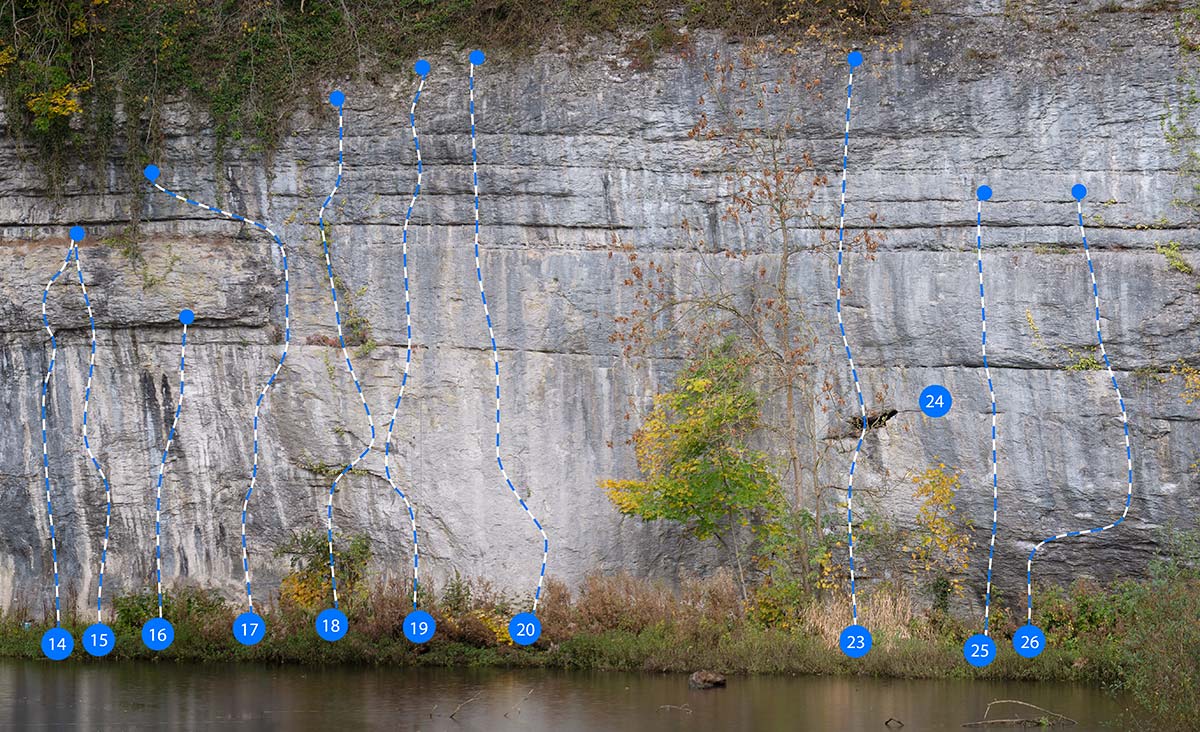 Dangerous Tribes (8a) ★
From the second bolt on The Dangerous Brothers hard climbing up and left leads into Let the Tribe below the top bulge. Finish up that route.
F.A. Jon Clarke 2010
16. The Dangerous Brothers (8a) ★
More 'crimp-nasty' climbing.
F.A. Martin Atkinson 1987
17. Too Old to be Bold (7c)
A very, very polished.
F.A. Mark Pretty 1987
18. Cute (7b)
Just L of a tree stump a hard start gains the Coot jugs then straight up the wall above. new 2020
F.A. Mark Pretty 2020
19. Coot Reboot (6c+) ★
Start just R of a tree stump with hard moves to gain the big flake. (If the top is wet you can move into Cute from the first break and finish up that Too Coot to be Cute (6c+)) new 2020.
F.A. Steve Lewis 2020
Too Cute for Coot (6c+)
Links the start of Coot Reboot then finishes up Cute.
F.A. Paul Freeman 2020
20. Piranha (E6 6b) ★★
Classic frightener wall climbing via a short, sharp left-facing flake.
F.A. Ron Fawcett 1981
21. Cora (E6 6c)
The epitome of desperation, not repeated since the loss of a small flake.
F.A. Andy Pollitt 1986
22. White Bait (E5 6c) ★★
A classic boulder problem from the shot holes extended into a route. (not marked on topo)
F.A. Daniel Lee 1981
Flake Out, Shake Out (E4 6c)
The hard wall to the right.
F.A. Steve Earnshaw, Jon Cort 1987
23. The Miller's Tale (E5 6b) ★★
Classic problem via the big hole.
F.A. Andy Barker 1981
24. Closing Tale (7b+)
Traverse R from the first bolt on Miller's Tale into Hot Fun and finish up that. One wire needed.
F.A. Mark Pretty
25. Hot Fun Closing (8a) ★★
A mean route extending the classic Kudos (7B) boulder problem.
F.A. Ben Moon 1986
26. A Bigger Tail (7b+) ★
A powerful and fingery boulder problem (V7) to gain the upper wall.
F.A. Tim Freeman 1985