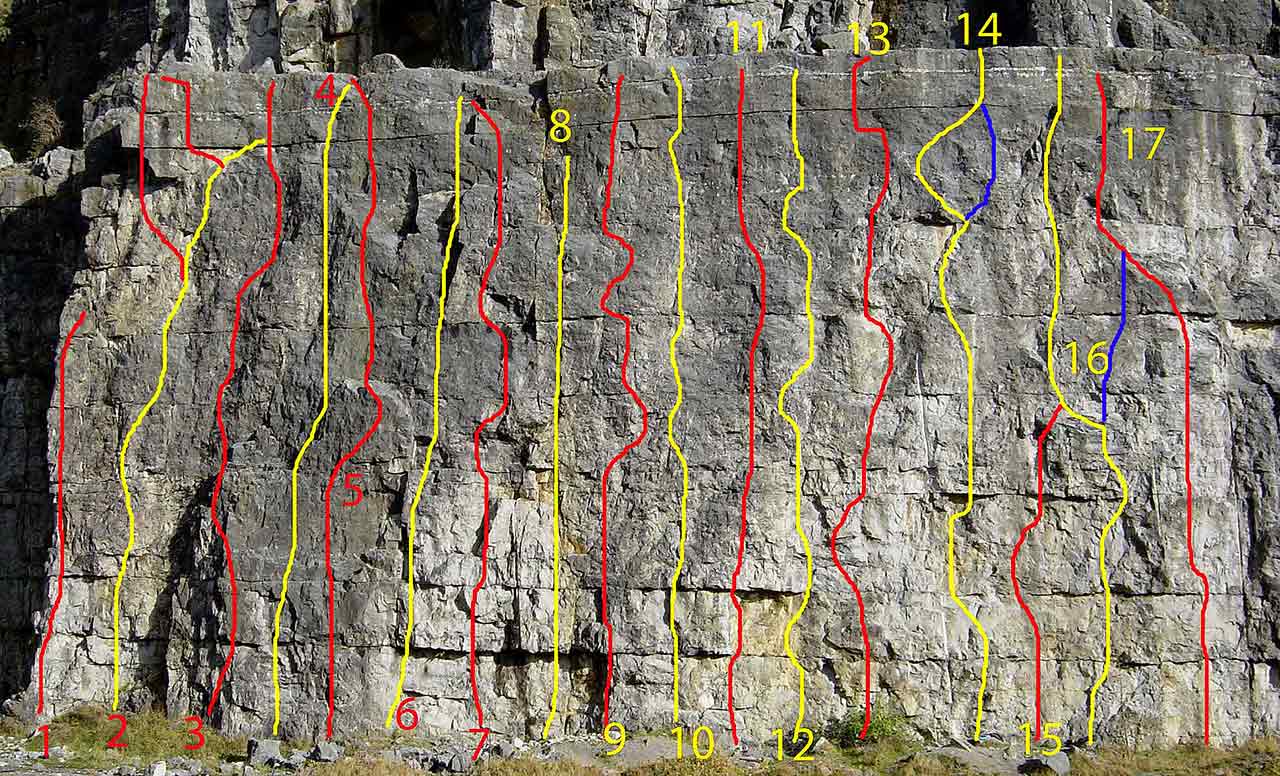 1. Pale Rider (6a) ★ The warm up. Keep to the arete, not the crack on the right.
2. Rain Dance (6c) ★★ Tricky start then delicate above and rightwards. The two left-hand finishes are Colostomy Finish (6c+) and Physical Fizz (6c+)
3. School's Out (6a+) ★ New start and bouldery crux to excellent faint crackline
4. Rotund Rooley (6b) ★ Pleasant delicate climbing via the obvious scoop. Becoming polished and hence insecure.
5. Waves of Mutilation (7a) Desperate sequence past ring BR. New finish.
6. First Day of Winter HVS 5b the excellent crackline running almost the full height of the wall has a difficult start and finishes via a groove slightly right.
7. Wall of Jericho (6b) ★ Rebolted and one of the easiest on this section of wall.
8. The Leading Line (6b+) ★ The obvious crackline gives monkey-up-a-stick climbing. Worthwhile.
9. Say it With Flowers (6c) ★ Again pleasant with one hard and awkward move.
10. Legal Action (6c) ★★ Hard start with pleasant face above. Airy.
11. Run for your Wife (6c+) ★★ One of the best on the wall. Crux low down leaving a prominent flake and superb above.
12. Private Prosecution (6c) ★★ Superb blend of technical and airy climbing via shallow groove, scoop and headwall..
13. Litany Against Fear (6c) ★ Now climbed direct over the bulge. A superb and technical direct finish.
Megashot (7a) climbs the shothole L of Megalithic Man from the fourth bolt on that route and utilizing the last 2 bolts on that route too. The crux can be avoided by going further L at 6c.
14. Megalithic Man (6b+) ★★ A fine route, bold low down finishing left and up from the 5th BR. The Super Direct Finish is a fingery direct finish at 6c+ ★★.
15. Poisonality (7a) ★ Effectively the direct start to An Ancient Rhythm with fine moves.
16. An Ancient Rhythm (6c+) ★ A hard start leads to open climbing and a finish via the thin crack. The link pitch between this and the next route gives Ancient Man E5 6a ★ connects Rhythm with Demolition Man
17. Demolition Man (7a) ★ A mixture of technical low down, easy middle and fluttery finish.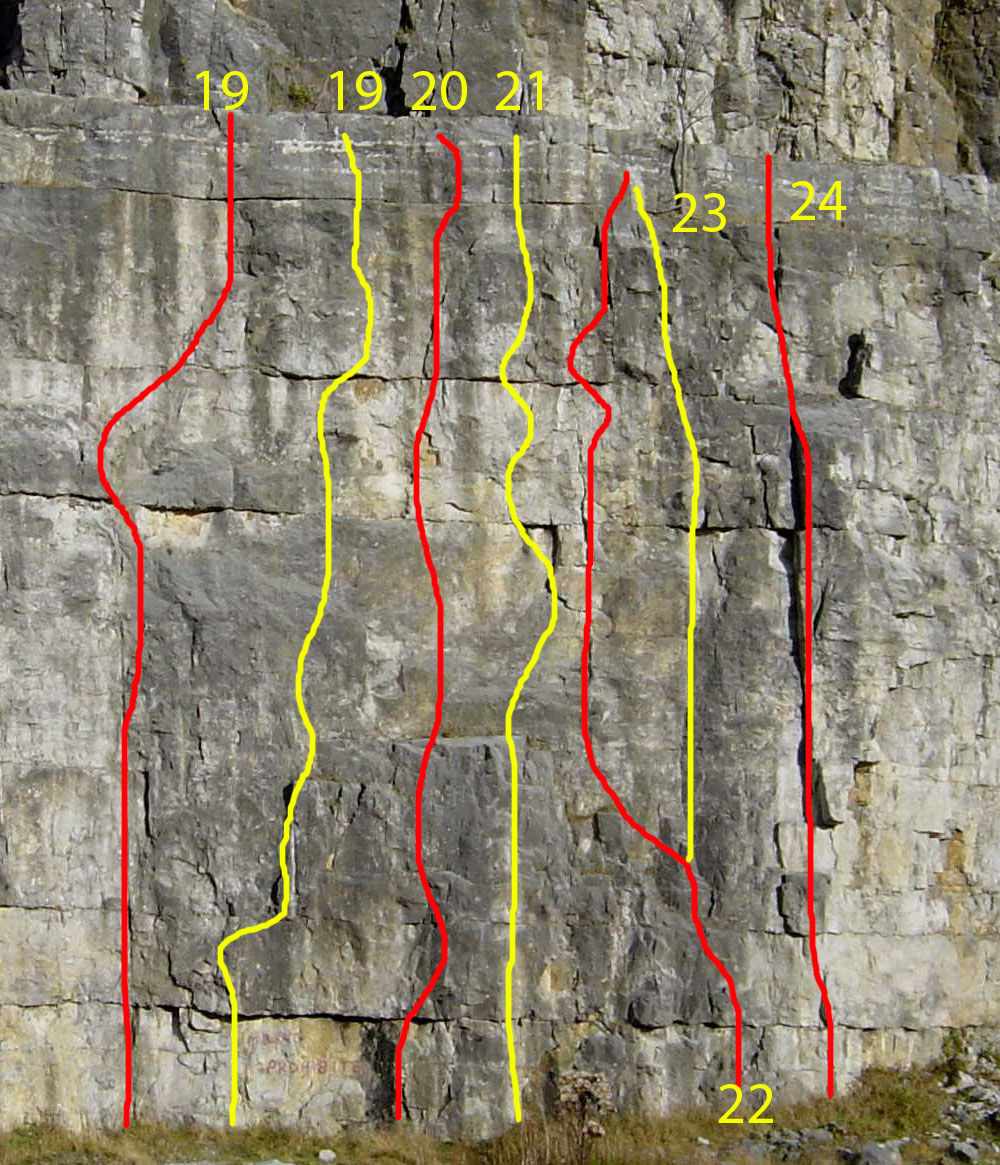 18. Shot Yer Bolt (6b+) ★★ The obvious borehole with a tricky finish and rattling hold.
19. Southern Man (7b) ★★ Superb route with blind and fingery finish. Hard since loss of holds and worth a flutter sign .
20. Nice Ledge, Shame about the Face (6c) ★ Awkward start. Difficult slab move and airy finish.
21. Flatworld (7a) ★ Open technical face with brutish finish off edge.
22. Lost Monolith (6b+) the long straightforward crackline and difficult final bulge.
23. Screwy Driver E1 5b the shallow groove/wall to the right with a difficult final section.
Harvey Wallbanger (6c) blunt rib and very hard moves direct through overlap. Using the crack out right makes it a more balanced 6b.
24. Spring Awakening E1 5b the straight thin crack has been subject to recent cleaning work to the right. It has affected the grade slightly but was reclimbed a couple of days after the cleaning. It has now been completely recleaned