This is the steep buttress to the left of The Slabs. Facing NE it gets little sun and is good for a hot day though takes longer to dry out that other parts of the crag.
The most prominent lines are the two left leaning crack lines of Heart to Heart and Sliver (routes 5 & 6). The routes on the right side start from ledges that you scramble up to via fixed ropes.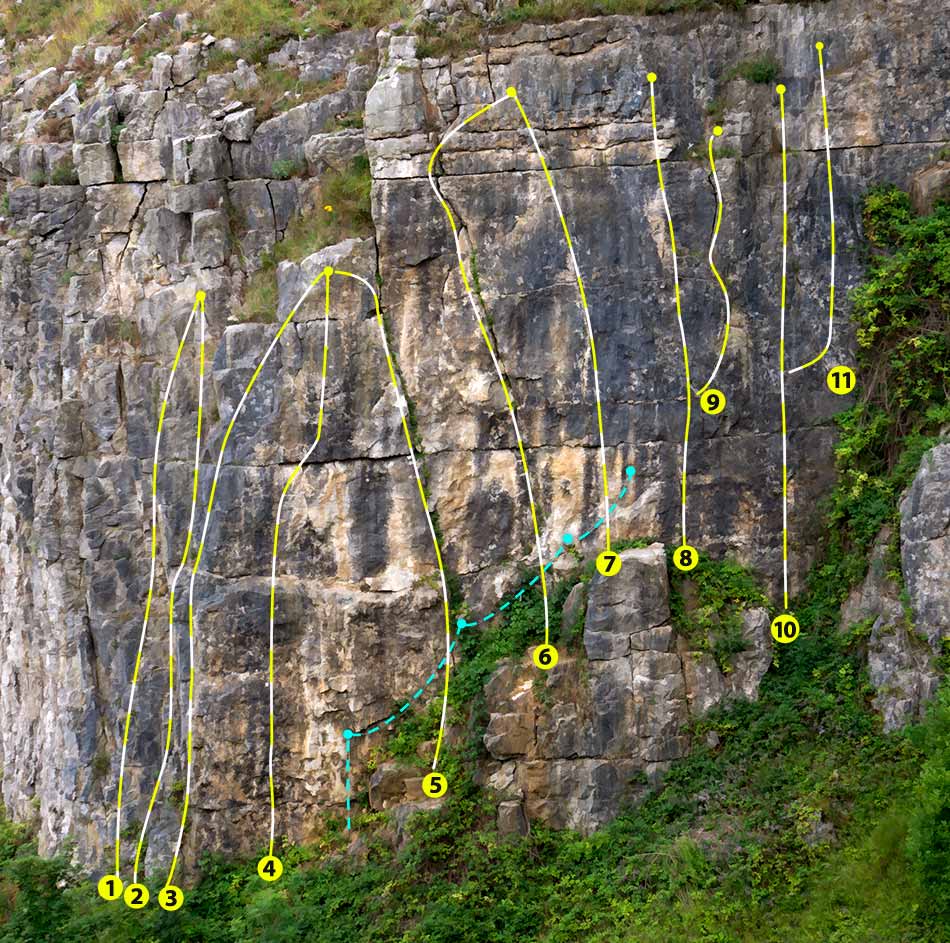 1. Nine Eleven (6a)
Climb the shallow groove to rightwards exit.
2. Seven Eleven (6b)
Good moves up the left-hand side of the arête.
3. Tors Colon (6c+)
The right-hand side of left arête.
4. Vent Your Spleen (7b) ★
A hard boulder problem low down leads to pumpy finale.
5. Heart to Heart (6c+) ★
The left-hand crack, once a trad route, is now bolted.
6. Sliver (6c+) ★
The right-hand crack. Good when dry.
7. The Stomach Pump (7b)
The thin bashed crack.
8. Skin Flint (6c)
Climb the face starting from the top of the blocks.
9. Bad Blood (6b+)
Start as for Skin Flint but swing out right from above the first break, up into a crackline.
10. Blood Bank (6b)
The wall starting from the gully below.
11. There Will Be Blood (6b)
Start up Blood Bank but move right above the main horizontal break then up the wall. Good.