The heavily excavated walls in the top right-hand corner of the quarry. So called because they look like Africa but not in the desert wasteland sense.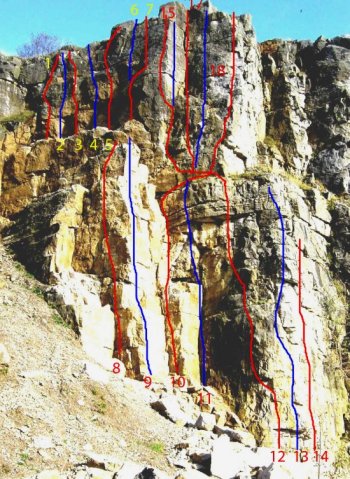 1. Elizabethville (6a) short line on left-hand side of ledge.
2. Burundi (6b) short line via thin crack and one hard move.
3. Townships (6c+) short desperate route
4. Victoria Falls (6a) crackline via sharp layaway edge. Easy in grade.
5. Kariba (6a+) thin crackline. One hard move.
6. Zanzibar (6b) slab on right. Step out of Kariba at 5m.
7. Simonstown (6c+) * right-hand line on slab with one very trying move. Only one route here.
8. Out of Africa (6b+) left-hand side of lower arete avoiding crack on left.
9. Madagascar (6b) one move wonder on right-hand side of arete.
10. Bird Island (6a, 6a) poor lower corner with pleasant upper arete pitch.
11. Seychelles (6b) a good crack climb requiring traffic to clean it up a little more.
12. Rainbow Warrior (6c, 6a) * fine lower wall just left of arete with a difficult pull and awkward overlap.
13. Weakened Warrior (6b) rounded arete right of Rainbow Warrior.
14. Sam in you Eye (6a+) pleasant orange wall which will clean up.
15. Ring Thane(6c+) ** the superb upper arete line has now been bolted
16. Pretoria (6b+) the right-hand side of upper arete.
17. Mombassa (6a) the upper corner line.
18. Greenpeace (6a) the slab to the right of the corner now seems contrived.