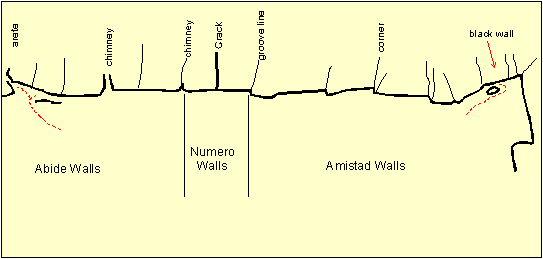 The large back wall of the quarry, very similar to St Govan's Head in appearance gives a host of very good traditional pitches with the occasional sport and mixed pitches.
The wall can be divided into three main sectors the most central of which provides some very good pitches. These sections are subdivided as follows:
Amistad Walls: these stretch from the right-hand side of the wall which has a scree slope below it to a long slim grooveline almost in the centre of the walls. Here can be found a handful of excellent and long pitches in the mid extreme grade.
Numero Walls: dominated by the central crackline of the wall, these offer half a dozen superb wall pitches on fine rock with an amount of fixed gear. The Giant Pot, Big Thing Coming and For Intake's Sake should not be missed.
Abide Walls: the left-hand side of the walls are identified by a prominent mud-filled chimney with an impressive left-hand arete, itself providing another classic pitch.