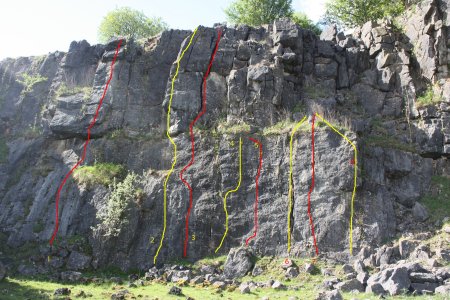 1. Conspiracy Theory E2 5b bold start to excellent upper tower.
2. One Foot in the Cave E3 5c ★ bold lower slab and pleasant upper arete.
3. Down to the Armpits E2 5b ★ face to wide crack.
4. Monochlor E1 5c steep face via thin crack
5. Slap on the Pyro HVS 5b thin crack with technical start to gain it.
6. Cornicure VS 4c obvious wide cracks
7. Don't forget the Freezone E1 5b ★ straight thin crack
8. Salactol E1 5b right arete.