This covers the crags up to the left of Main Wall including the routes on the left side of the Main Wall buttress.
Bosch Walls
1. Bish, Bash, Bosch (6b) one hard move.
2. Bolt 45 (6a+) more like E2 5b!
3. Bosch Spice (6a+) more like E3 5b!
4. Eight till Late (6a) pleasant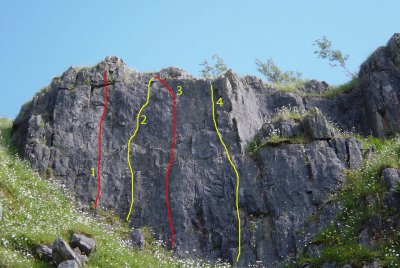 Obelix Walls
On the upper left-hand side of the walls are three worthwhile but short routes.
1. Beastiality (6a)
2. Killer Bee (6c) ★
3. The Ladybird Killers (6c+)
4. Six Bee or Not Six Bee (6c+)
5. Bee Movie (6a+)
6. To Bee a Star (6a) pleasant wall with steep finale
7. Terry and June (6c) Wall to technical finish in thin crack.
8. Tawk the Squawk (7a) Left-hand side of arete
9.. Squawkietawkie (7a) Hanging arete with hard start through roofs.
10. Can'tgetmyfix (6c+) thin crack and arete
11. Obelix (7b) ★ centre of fine tower with intricate fingery finish. Rebolted
12. Getafix (7b) ★ right arete of tower bold and fine. Rebolted
13. Play it Again Sam HVS 5a
14. Reservoir Frogs (6c+) ★★ Centre of pillar wall gives a fine introduction route. Rebolted