This sector situated in the large bay facing The Sanctuary. Drop down to The Sanctuary and then follow a vague path up the slight incline facing the Sanctuary into the open bay. The crag is shady most of the day. An ideal crag for warm sunny weather and a barbecue!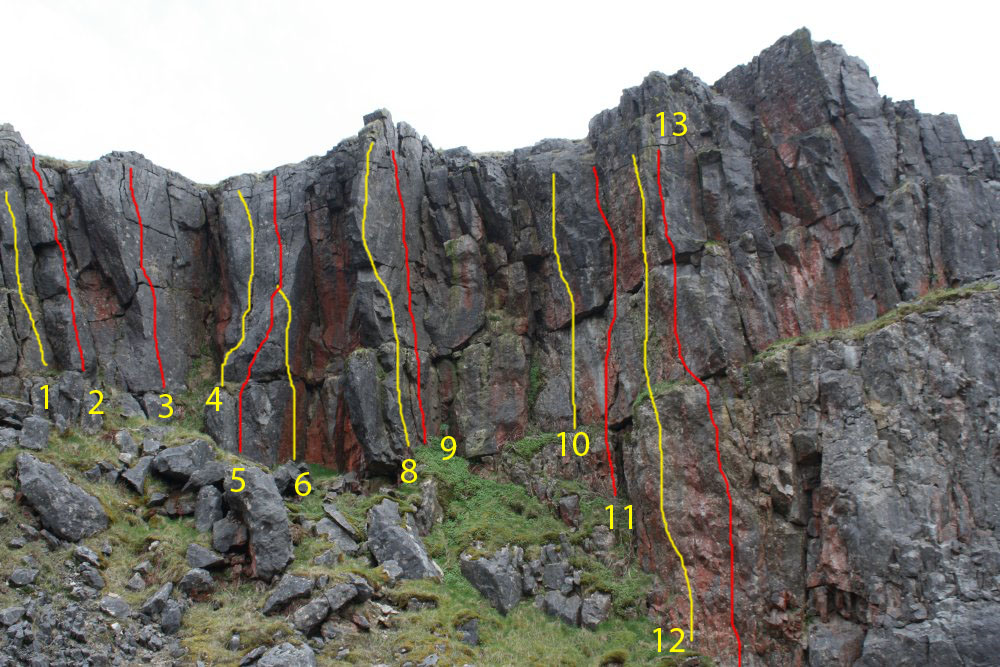 1. Clean Team (5+) slim face with a short technical section
2. Mean Team (4) easy slab
3. Cart the Wheel (6a+) ★ fine grey wall with hard moves to second bolt
4. Jamma yer Hut (6a+) thin crackline with good moves
5. Slip yer Foot (6a+) thin crackline with shallow groove start. Good.
6. Bust yer Gut (6b+) sharp arete on right-hand side. Good moves.
7. Unfinished Business (7a+) ★ left-hand side of fine starting via layback crack. Very fingery from ledge.
Fintastic (7a) Straight up the front face of the fin.
8. Fin de Siecle (6c+) ★★ classic on right-hand side of fin in great position.
9. Combien de Siecle (7a+) ★ short hard section up centre of side wall.
10. Irrational (7a+) tough looking face utilising left arete.
11. The Butch Master (6b+) ★ fine pitch with superb layback. The clue is in the name.
12. Retro Rockets (6c+) ★ short hard wall and superb calcite face above.
13. Let it Go (6c+) ★ right-hand side of lower wall and arete above.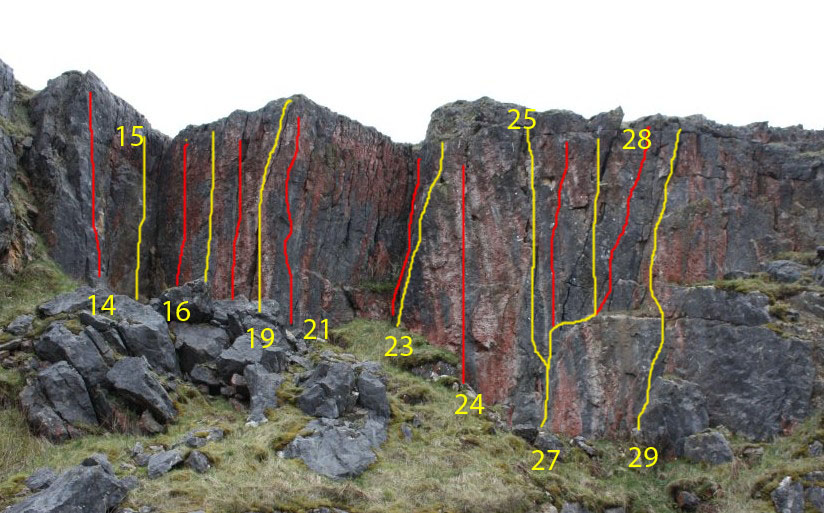 14. Gullied (5) pleasant pillar.
15. The Gully Folk (6b) wall just left of gully with contrived but excellent moves.
16. Sub-Atomic (7a) wall just right of gully. Very touch central section.
17. Atomic Tommy Cooper E2 5c wall to right via undercut flake to crack.
18. Clay Man (VS 4c) left-hand of two cracks.
19. Dog Canute E1 5b ★ right-hand crack
21. Yardcore E3 5c the arete started on right and bold above mid-height.
22. Shallowcore (5) wall just right of gully.
23. No Retreat (6a+) pleasant right arete with fingery finale.
24. Beat Retreat (6b) ★ Crack on front face with good extending moves
25. Couples Retreat (6b+) next crack to right, coming in from slightly right.
26. Retreaty (7a) tough face above start of 25.
27. VLC (6c) The crack to the right. If only you knew what the name meant!
28. SLF (6a+) wall to right with very peculiar hold
29. MLT (4) easy route to right needs traffic.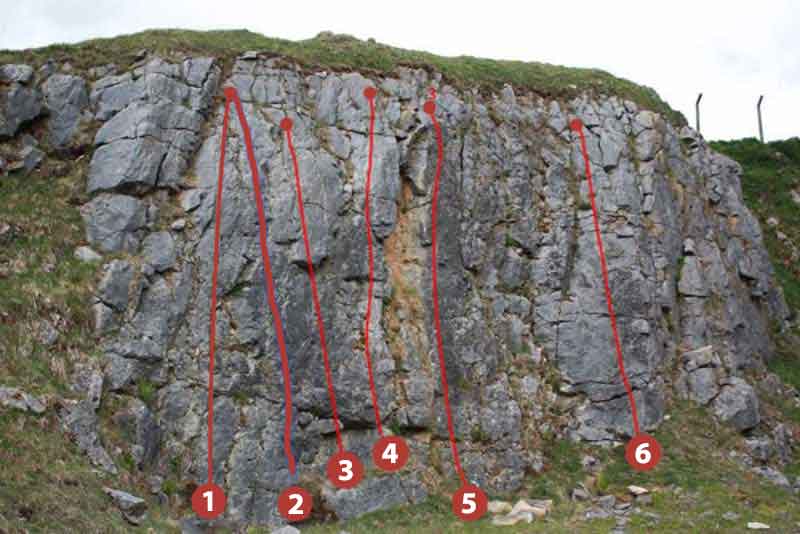 1. Teaterist (5)
2. Teater Ye Down (5+)
3. Teater Ye Not (6b)
4. Ye Not Teater (6b)
5. Up Teater (6b)
6. Repeat Retreat (5)