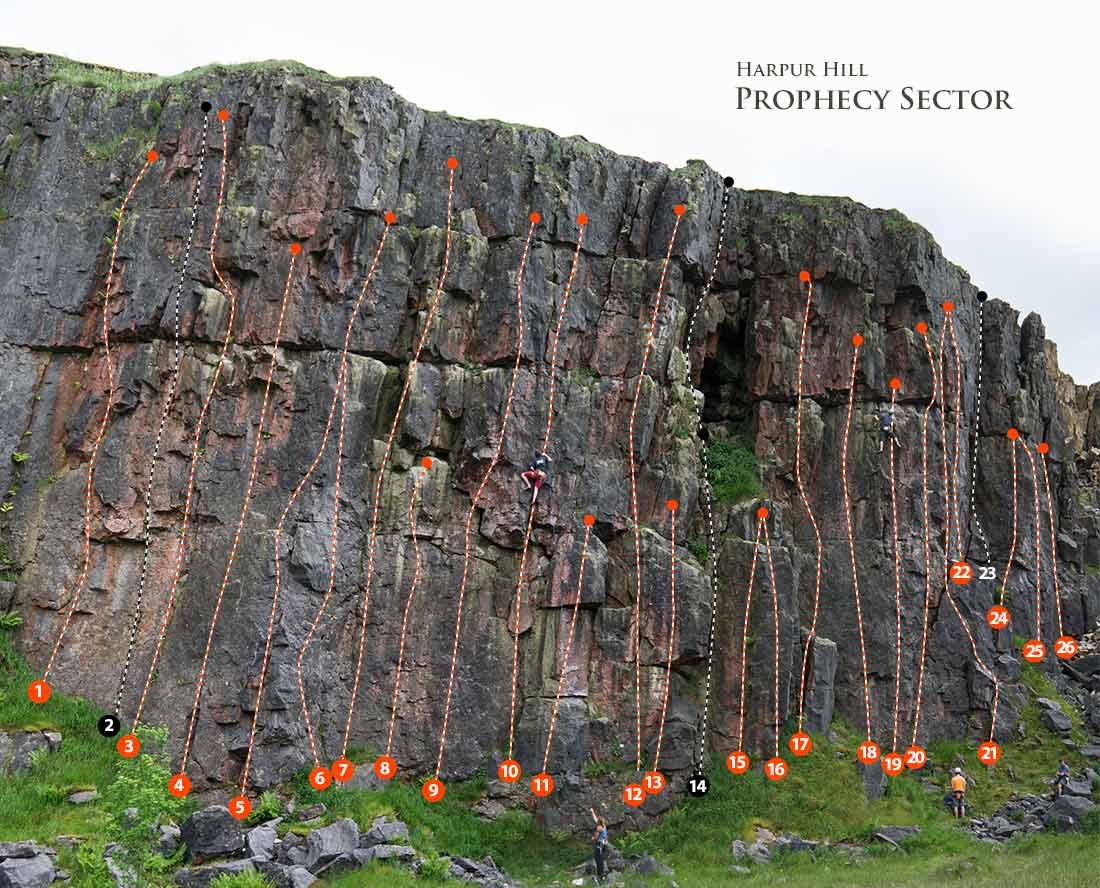 Click for hi res topo
This is the first area on the upper tier when approaching from the steep path that leads up from the lower tier, L of the Cairn sector.
1. Over the Hill (6c) ★★ finger crack, bulge and very fine headwall.
2. Nostalgia (E4 6a) ★★ superb trad. route via sinuous thin crack. New belay added.
3. The Omen (6b) ★★ long crack and grooveline to right gives a fine outing. Rebolted.**
4. Yogi Bare (7a) ★ black face, technical, and fine finish left of BRs. Rebolted.
5. Four Telling Tales (6c+) ★★ thin crack and left-hand side of arete, technical. Rebolted.
6. The Talisman (7a) ★ right-hand side of arete. Balancy. Rebolted.
7. Bleingassen (6c) ★ long shallow groove line finish via arete and a good sized ledge at the top. Rebolted.
8. The Oracle (7b+) short technical test-piece up wall and blunt arete. Thin.
9. The Prophecy (7a) ★★ long pitch with superb sustained climbing. Technical low down, airy above. No crack on right. Rebolted.
10. Supernatural (6a) ★★ superb new addition taking the long thin crackline to a hard finish. Well worth seeking out. Rebolted.
11. The Indian Cottage (7a) shorter route over series of 'blocks'.
12. What a Load of Roti (6a) ★ Long route following scoop and flying arete in upper half.
13. Aloo Gobi (6c) short flake and technical wall.
14. Z Victor 1 (HVS 5a) short flake and technical wall.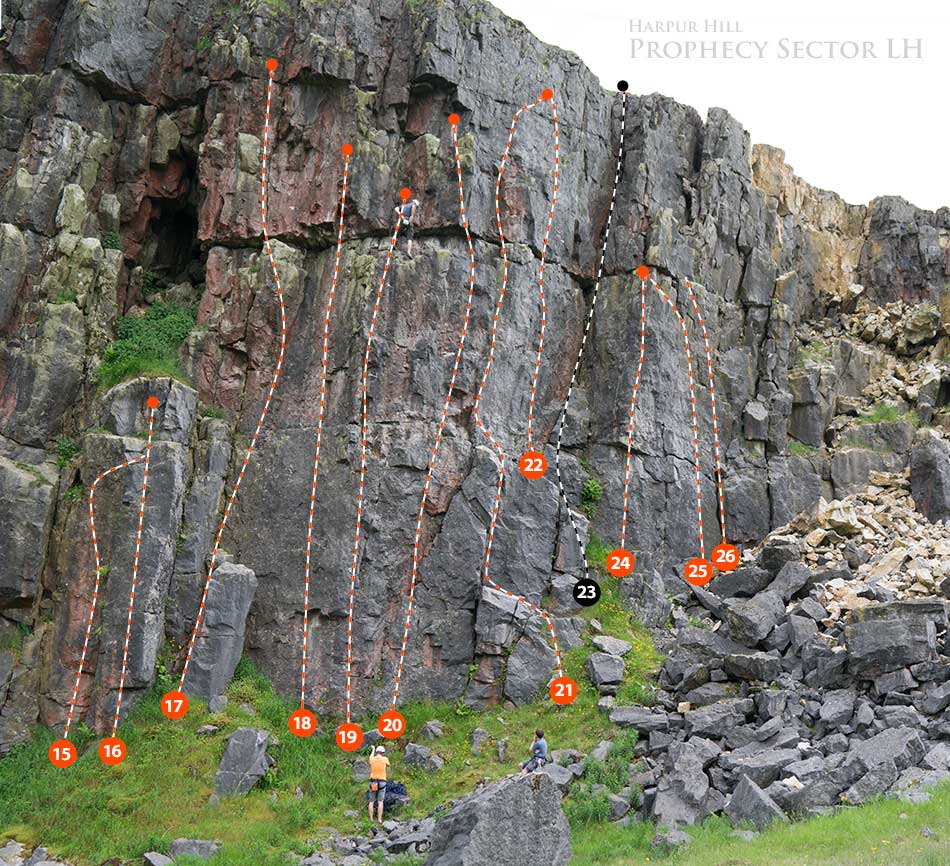 15. Pappadum Groove (6a) Shallow groove line.
16. Quartz Initial (6b) another shorty up sharp arete.
17. Duma Key (6a) blocky start to steep finger crack finale.
18. Viagra Falls (6c+) ★ left-hand side of face with roofs above. Technical low down, tricky through the roof. Keep out of corner.
19. Different Seasons (6b) ★ Thin crack up face with technical climbing at half height.
20. Apt Pupil (6c) ★ right-hand side of face with hard finish.
21. In the Gravy (6a+) ★ shallow groove on block, then wall above.
22. From Cradle to Grave (6c) ★ pleasant side wall of corner at higher level. Fingery.
23. Inception (HS 4b) The corner.
24. Calcite Claws (6c) unusual calcite arete. Excellent and tough.
25. So Veneer (6b) just before rock scar, tricky at grade.
26. The End (6a) short wall with hard start.