This is on the upper tier to the right of Papacy Buttress and left of the Prophecy sector.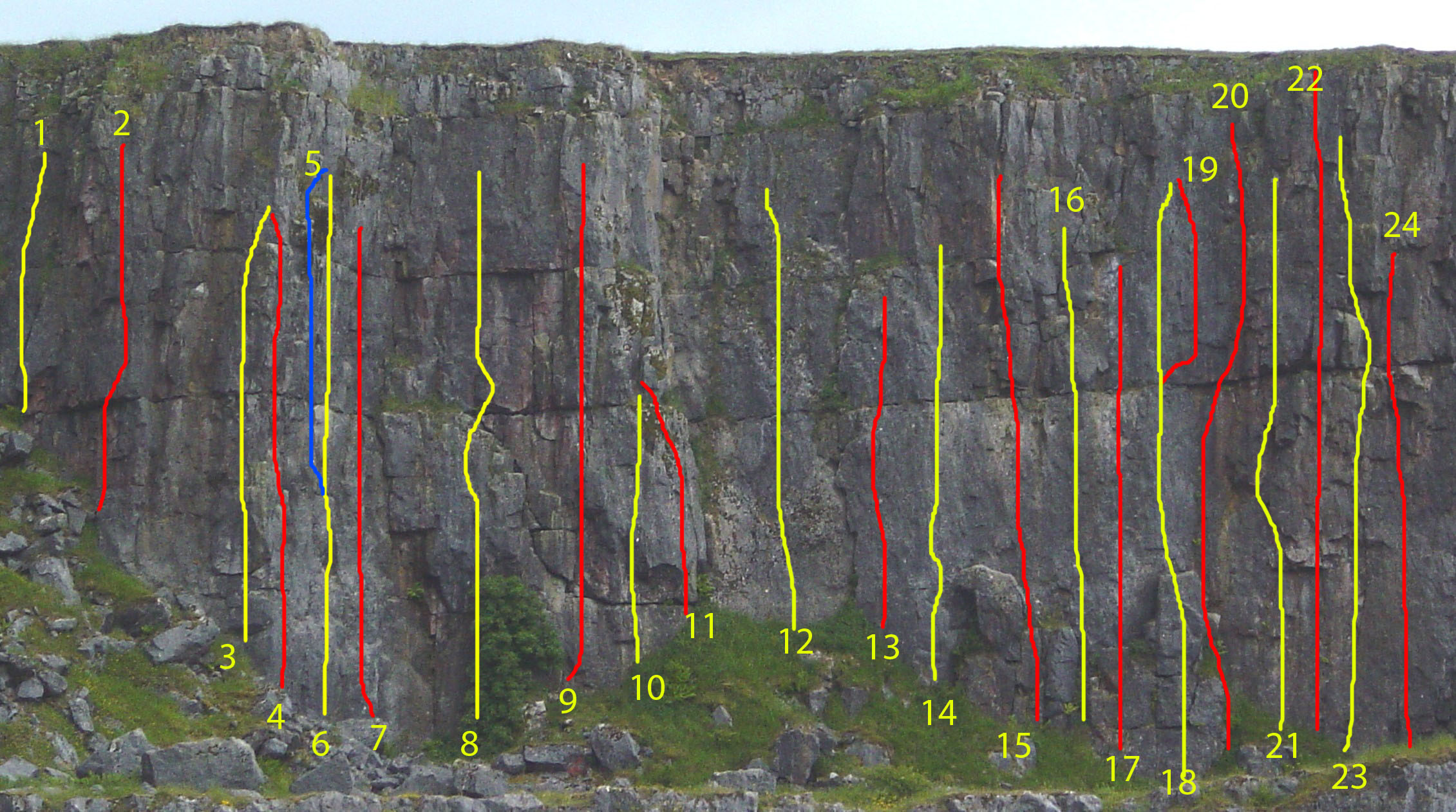 1. Danny Cool (5) slim rib with short pleasant and technical moves.
2. Cool Danny (6b+) enjoyable face climbing after a tricky start over the overlap. Slightly up the banking.
3. Screaming Wheels (6b+) ★ the rounded arete of the buttress, direct past the BRs at the start.
4. Swain's World (6b) ★ Fine exposed climbing just right of the arete of the buttress. Steep but juggy.
5. No Man' Land (6c) ★ branches left out of Exclusion Zone to climb the face via a thin crack. Airy.
6. Exclusion Zone (6c) ★★ the centre of the fine face with a pumpy finale. Tricky first clip.
7. The Iron Curtain (6b) ★ Fine line via rib and shallow groove culminating in steep finale.
8. Mouse Hunt (6c) ★ Fine lower wall leads to an open and superb finish.
9. Slowly, Slowly Catch a Monkey (6a+) ★ groove follow by thin crack and protruding pillar. Very good.
10. Thing Thang (7a) ★ left-hand of two short routes up the hillside. Worthwhile.
11. Thang Thing (7a) right-hand line. Keep to face as closely as possible for the grade.
12. Slab de Lune (6a) pleasant intricate slab returning to moss, unfortunately.
Master of a lune (6b) slim face to right proves worthwhile.
13. Sack of Stones (6b) ★ left-hand of two excellent slabby face routes. Direct on line for grade, 6a+ using flake on left..
14. Bag of Bones (6a+) ★★ a little gem via a blunt rib left of a prominent block.
15. Plate of Scones (6b+) ★ a surprising find with a trying crux from the ledge. Easier above.
16. Sara Laughs (6b) ★ more pleasant intricate face climbing above ledges.
17. Tenth Heaven (6b) ★ pleasant technical face leading to easy flake crack.
18. Calci Mauve (6b+) ★★ excellent climbing via a pillar, technical rib and superb upper wall. High quality.
19. Glas Double (7a) ★ right-hand variant with some superb thin moves.
20. Flakey Pastry HVS 5a ★ the fine flake corner crack system to a lower off. Well worth seeking out.
21. Over the Hill (6c) ★★ finger crack, bulge and very fine headwall.
22. Nostalgia E4 6a ★★ superb trad. route via sinuous thin crack. New belay added.
23. The Omen (6b) ★★ long crack and grooveline to right gives a fine outing.
24. Yogi Bare (7a) ★black face, technical, and fine finish left of BRs.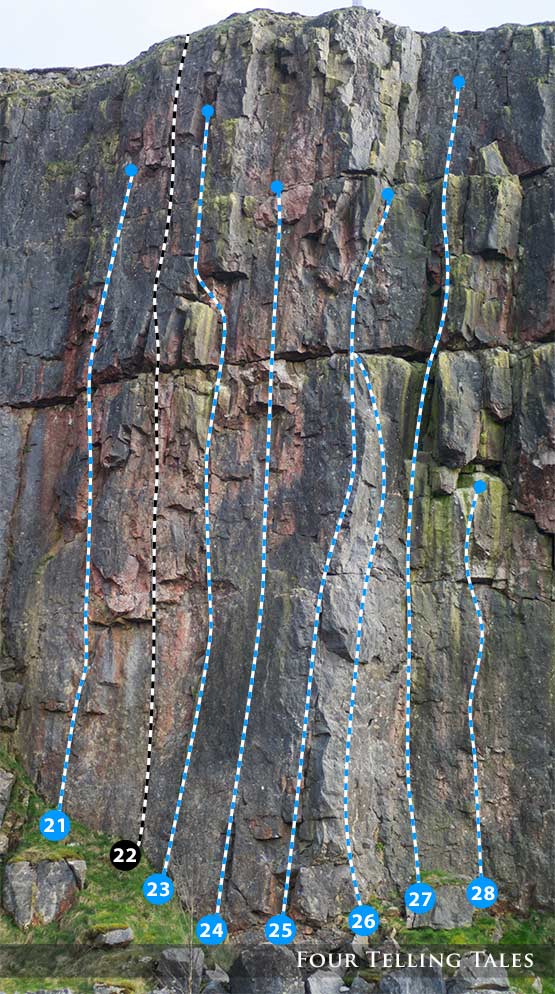 25. Four Telling Tales (6c+) ★★ thin crack and left-hand side of arete, technical.
26. The Talisman (7a) ★ right-hand side of arete. Balancy.
27. Bleingassen (6c) ★ long shallow groove line finish via arete and a good sized ledge at the top.
28. The Oracle (7b+) short technical test-piece up wall and blunt arete. Thin.