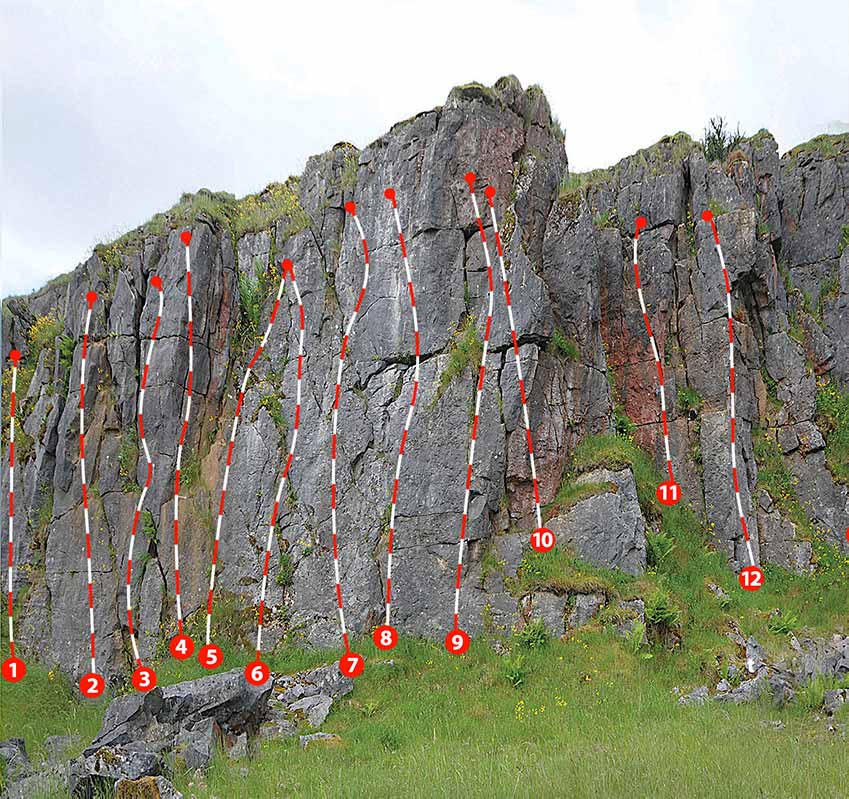 It has to End Somewhere (6a) slab trending leftwards to lower off.
1. DNE (4) pillar with a mantelshelf finale
Endamol (5) central pillar past the spike of Beelzebub, which is solid!
2. Will it Never End (4+) left pillar
Is this the End? (5) central wall.
3. Coming to an End (6a+) slim pillar. Pleasant though short.
4. End Games HVS 5a crackline on right wall of pillar
5. Rawlinson End (5) worthwhile climbing up the wall to the shared belay
6. In My Darkest Hour (5) left-hand side of face. Pleasant.
7. Endsville (6a) front face with tricky finish.
8. Centreville (6a+) crack to layback flake and lower off above.
9. Preston North End (6b) Slab to steep wall with hard moves past 3rd BR.
10. Darkdale (6a)
11. Will They (5) slim wall.
12. People Will Talk (5+) ★ excellent short arete.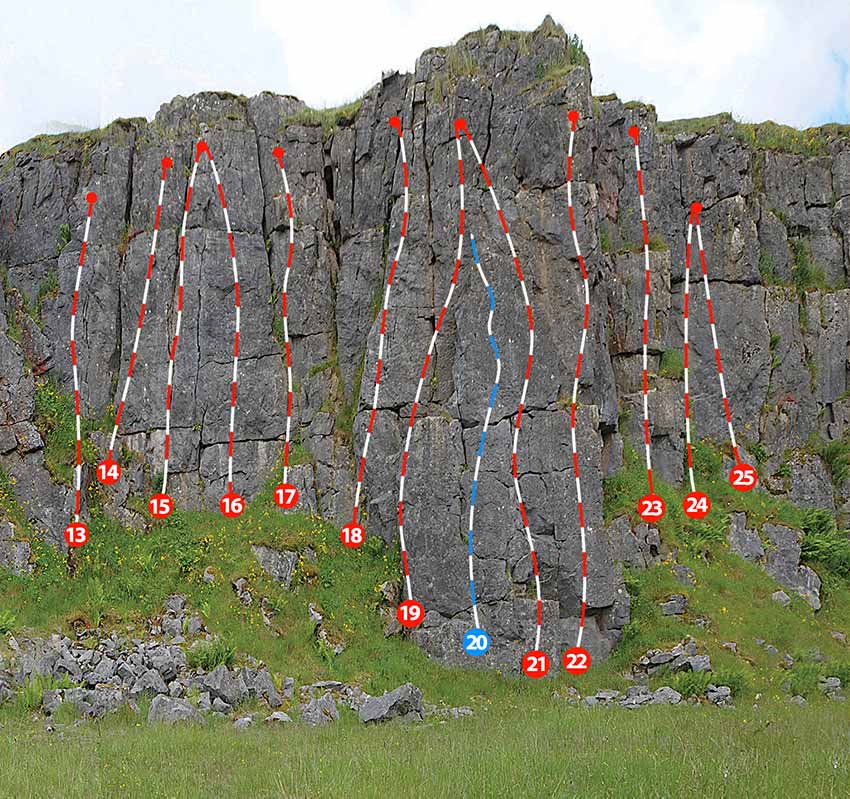 13. Parting of the Lips (5)
14. Ear to Ear (6a) slim wall with tricky move at half height. Worthwhile.
15. Uncreased (VS 4c)
16. The Mouth Wearers (6b+)
17. I'm a Port Vale Dribbler (6a) Slim pillar.
18. George Stark Calling (6a+) ★ Sharp arete on right side of bay to left. Unusual.
19. Metal Back Crack (HVS 5a)
20. Stark Disbelief (6c+) easy crack, hard face and easy finish.
21. Dark Lines (5+)
22. The Dark Half (6b+) ★ the fine arete at main level.
23. Graveyard Blues (6a+) arete to left. Hardest in middle.
24. In Stark Contrast (6b+) ★ (the red line R of 22)
26. Totally Stark (6b+) the yellow line right again.