1. Suck yer Thumb (6b)
A tricky bulge, easing above.
2. Held her Head (6b)
Another tricky bulge.
3. She didn't Ken (6b+)
A fine little bulge and short fingery wall.
4. 1. J.L.N.O.E (7b+) ★
Short but steep and powerful crux. Low in grade. Recleaned and regeared.
5. Much Monkey Magic (7a) ★★
Sustained crackline. Pumpy and a little awkward. Can be damp in humid weather. High in grade and not a warm up. Recleaned and regeared.
6. Otto di Catania (7a+) ★★
Great climbing with a supercharged crux or a one-arm pull up. Recleaned and regeared.
7. Blazed but Amazed (7b+) ★
You will be by the crux and even then its not all over. A very awkward to work out bulge. Recleaned, regeared and new belay added.
8. The Philandering Sons of Magic Women (7a)
Powerful start, awkward crack and airy finish rights and just plain strenuous for good measure. Recleaned, regeared and new belay added.
9. A Wild Man from Way Back When (7b) ★
Sustained climbing with a hard start and a reachy central section. A fine fingery climb. Recleaned, regeared and new belay added.
10. Duelling Biceps (7a+) ★
A great name but out of theme, if you the theme that is. A strenuous and quite airy little pitch. Recleaned, regeared and new belay added.
11. A Woman in Wellington (7b)
Very short and powerful bulge. High in grade.
12. Wet Yer Whistle (7b+) ★
Very hard bulge after tricky start. Just plain strenuous.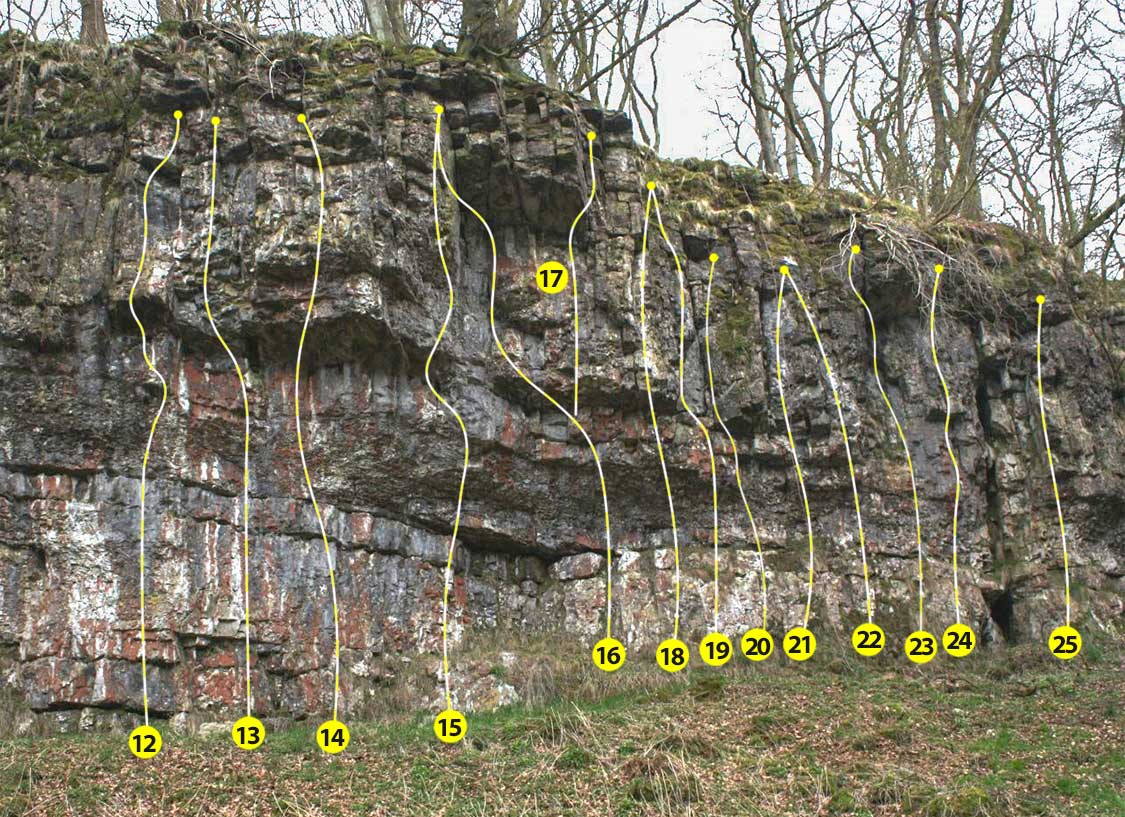 13. The Main Motor Mile (7a+) ★★
The original classic of the crag. A difficult low crux and then just army. Better since the loss of a poised block.
14. Pingham's Route (7c+) ★★
Leaning wall, big roof and more to come.
15. Laughing at the Rain (7c) ★★★
One of the best short routes in the Peak. A very hard start and then jugs and finger-locks to the top. Overhangs 6m.
Singing in the Rain (7b+)
connect the start of Mesmerized with the upper section of Laughing at the Rain.
16. Mesmerized (7b) ★★
The big hanging corner with a hard entry from the right. Regeared at start.
17. You Know UFOs (7a+) ★
Direct from start of Mesmerized. Powerful. The ET Extension
(7b+) climbs the final roof left of the UFO finish. Down aid to get the gear back.
18. Euphoric (7a)
More powerful climbing but gentler above the roof.
19. Pneumatic (6c+)
powerful bulge and extending moves leftwards and up.
20. Ecstatic (6b)
difficult bulge to easy crack.
21. Fantastic (6b)
long reach to juggy bulge and groove line. Worthwhile
22. Traumatic (6b+)
slightly better with huge holds and one long pull.
23. Check Out (6a) ★
awkward bulge to jugs, crack and fine leftwards finish. Excellent.
24. New Nomad (6b+)
★ tricky little bulge and crackline to overhang.
25. Napped a Nod (6a+)
poor route on right. Needs traffic.