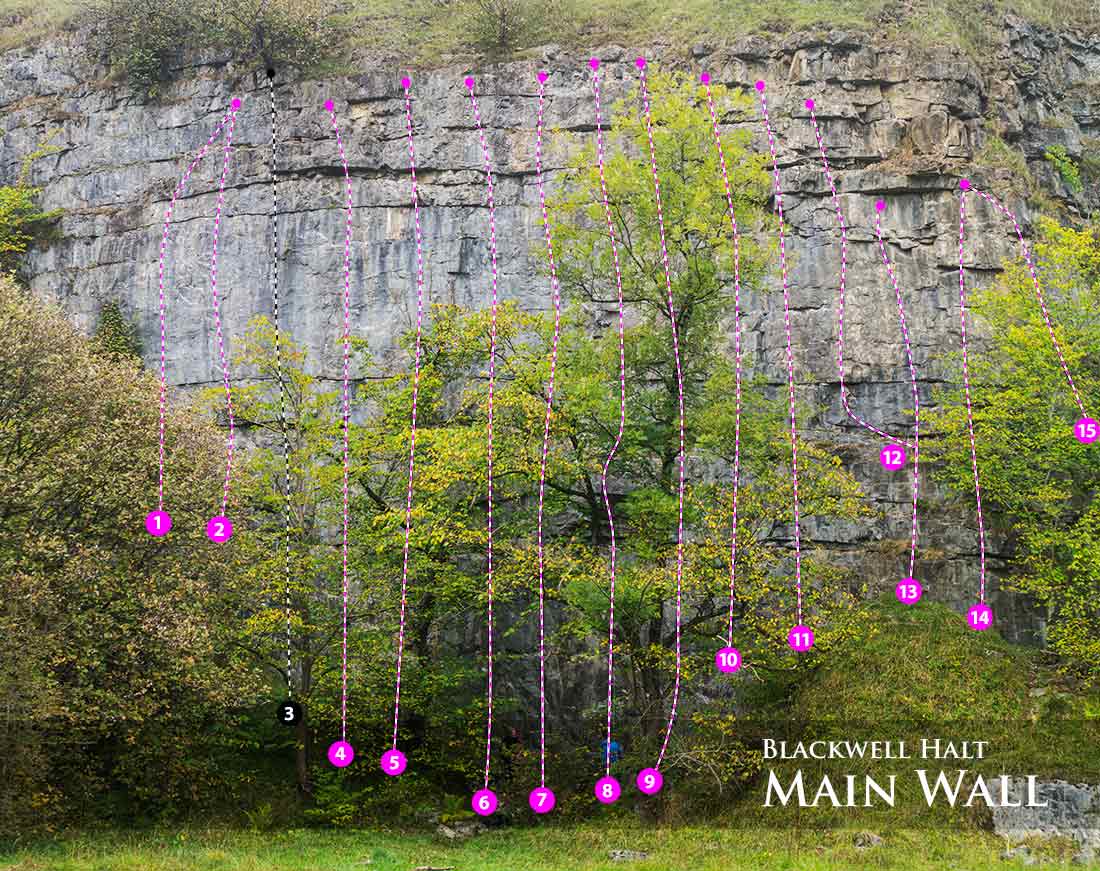 Most routes have been rebolted with good quality resin bolts.
The first two routes start from a high ledge on the left.
1. Micro Chip (6c+) Short but desperate for four moves.
2. Modem (6a+) Easiest on crag with two long reaches.
3. CD Romp (E2 5c) Trad. Start up the groove to the ledge then up the faint crack above.
4. Arapaho Connection (6c) ★★ Best on crag with fine wall climbing.
5. Hard Drive (6c) ★ Hardest with bouldery start and tricky finish.
6. Mega Byte (6b) ★ Two tricky moves on upper wall.
7. Gopha Space (6b) ★ Through overlap, awkward, and tricky on upper wall.
8. Windows 95 (6b) Short hard section Long reaches.
9. Falling Icons (6c) Polished with a tough crux section.
10. She Got the Bosch, I Got the Drill (6b) More of the same but not reachy. Starts part way up slope.
11. Waste Bin (6a+) Via shallow groove
12. The Hacker (6c) ★ Difficult problem up the blank looking wall. Careful belaying required to avoid hitting the ledge.
13. E-mail (6a+) Another reach dependent route.
14. She Mail (6b) a tricky fingery wall above the ledge.
15. No Mail (6a) pleasant face to groove on right side of wall. Move left to belay.
Surfing the Net E2 5b In true English style a girdle traverse of the lower of the two breaks starting up Modem and finishing up E-mail.