Character
The narrow ravine close to Morrisons in Buxton gives a handful of pleasant routes with extremely easy access. The rock is excellent quality but unfortunately the routes are only about 10 - 12m in height.
The crag is shady so can be good in hot weather. However it's best avoided in humid conditions.
Approach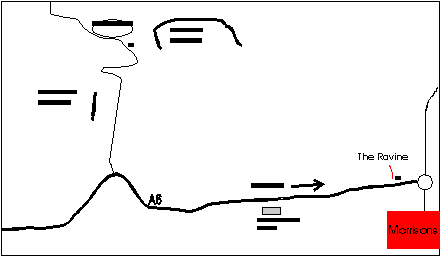 When approaching from Buxton down the A6, after leaving the roundabout alongside Morrisons, a small layby will be seen on the right-hand side of the road in about 200m. Park here - it is worth noting that it easier to park here when approaching from the opposite direction.
The ravine is directly behind the parking area. The crags are about 1m walk from the car.
Unfortunately the first 4 routes appear to have been debolted for unknown reasaons when last checked (2021).
Layout
There are three main sections of wall, the first most easily identified on the left-hand side of the ravine when entering it.
The other routes are on the right-hand side of the ravine, hidden from view but easily identified when walking up the ravine.
The Routes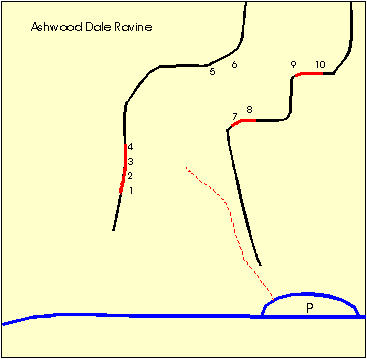 Starting with the wall on the left…
1. Rat's Rally (6c)
Steep pulls into a short narrow groove.
2. The Falling (7a+) ★
The fine flake and short juggy wall.
3. Down in the Sewer (6a) ★ the fine flake and short juggy wall.
4. Z.C.T (6b)
The fine little wall to the right.
5. Flushed Out (6c+)
A short steep boulder problem then good jugs.
6. Blocked Flue (7b)
A desperate boulder problem start easing above 2nd BR.
7. My Wife Led Me Up This (6b+)
The right arête of subsidiary wall with positive holds.
8. My Life Led up to This (6c+)
The fingery bulging wall to the left.
9. Mozzy Marathon (6c+)
The bulging arête and thin crack has a mean start.
10. Moss Marathon (6a)
The pleasant little wall to the left.