Please note that a number of routes have had their bolt runners removed on this wall by the Shropshire Wildlife Trust. The reason is that a number of rare plants exist below the wall and so they do not want climbing here. All the routes where bolts have been removed are marked accordingly.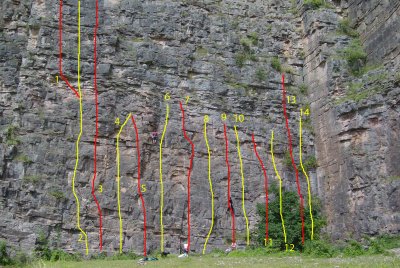 1. Autoroute du Soleil (6a) ★ branches left from belay of Journee to climb fine walls high on cliff to left.
2. Journee de Merde (6a) ★ a long route with just a short hard section halfway. 4 to the first belay.
3. La Ligne Vert (6a+) ★ straightforward, balancy moves on steeper section and peasant finale on rib. This can then be extended almost to the top of the crag by a superb 6b pitch. Bolts removed.
4. Damn Foreigners (5+) shallow groove line with steeper moves to exit. Bolts removed.
5. Chaud Show (6a) ★ prominent rib leading to belay in alcove. Bolts removed.
6. Troi Milles Voies (5) pleasant climbing on line of borehole. Bolts removed.
7. Frenchie (5+) easy start, tricky steeper section and easy finale over flake. Bolts removed.
8. The Foreign Legion (6a) steeper climbing starting via blunt gray rib. Bolts removed.
9. Too Much Dutch (6a) direct up wall starting from ledge at the back of shallow alcove. Bolts removed.
10. Herman the German (6a+) ★ pleasant face climbing with a difficult bulge and long pull to finish. Bolts removed.
11. FCUK (5+) at right-hand side of face. Tricky moves through overlap, then straightforward. Bolts removed.
12. Foreign Muck (6a) easy over ledges and steep, reachy finale.
13. TGV (5) ★ longer route at right-side of wall. Good climbing.
14. Who Fell in the Poubelle (5) line immediately left of long corner.