PLEASE NOTE: A BIRD RESTRICTION EXISTS ON THIS WALL AND RUNS FROM MARCH 1 UNTIL JUNE 30. LOOK OUT FOR THE SIGNS…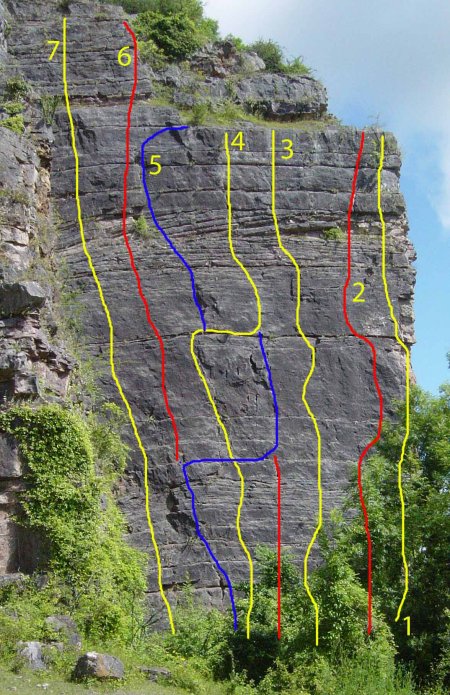 1. Zeppelin E2 5b right arete of wall via slim groove with old PR. Difficult route finding at top.
2. Churnet Runners E4 6a ★ wall 3m left of arete. Bold moves from ledge via blade peg.
3. Black is Beautiful E4 6b ★★ Centre of black wall now has a technical and bold section out of context with the rest of the route. Superb. Photo.
4. Black Bastard E2 5c ★★ Wall with PR, Step left and up thin crack. Steep finish on right, PR.
5. Black Wall E1 5b ★★ Classic. Easy on left, step right and via holes, TR. Exit via groove on left. Direct start makes it E2.
6. While the Cat's Away E4 6a ★★ faint thin crackline slanting left, 2PRs. Finish direct. Superb.
7. Picking Blackheads E5 6a ★ Direct line from hollow in ground. Bold with just enough gear.