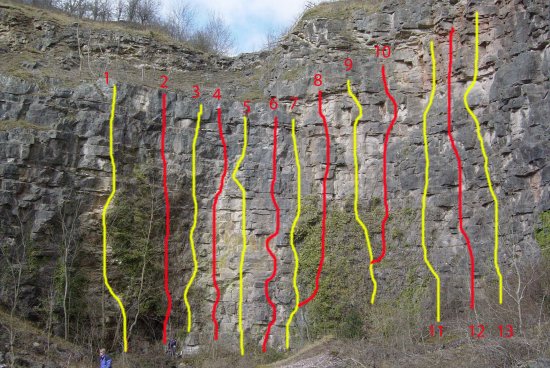 1. Bayonets Fixed (6a+) overhanging orange wall left of cave.
2. Bayeux Tapestry (6c+) steep and fingery climbing after an easy start just right of the cave. Two very long reaches.
3. Bay Watch (6b+) ★ just right again a vague rib leads to a find leaning headwall.
4. Summer Bay Babe (6a) the depression/ramp gained direct and finish slightly left.
5. Bayonets Ready (6b) ★ a sup little route direct up the flat wall to the right with some long moves towards the top.
6. Bay City Stroller (6a+) ★ begins in a short groove and traces a direct line up the wall. Very pleasant.
7. Bay Bee (6a) ★ another pleasant route starting from a ledge 3m ledge and climbing direct via an overhung slab and vague finishing arete
8. Welcome to the Bay (6b) ★ excellent climbing, easy to start then steep and fingery via a vague pillar and final headwall.
9. Be my Baby (6b+) long line starting via ledges to tricky finale
10. Bye Bye Baby (6b) branches right from start of 10 to climb wall to tricky finale.
11. One Fine Bay (6b) slabby lower wall with intricate and technical moves to steep and easier finale.
12. Bay Leaf (5+) ★ long pleasant face climbing with a few tricky moves at mid height.
13. Bay of Figs (6a) ★ straightforward and pleasant climbing on the lower wall to a superb and very steep finish on jugs.
About a Bay (6a) ★ long pleasant line to the right.