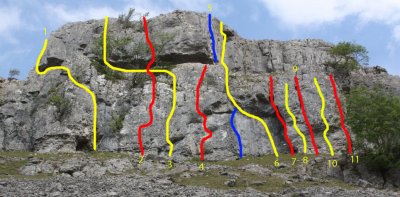 1. Pinfold Right-hand S ★ deep chimney and crack to ledge. Round arete above roof on left to finish.
2. The Moving Finger E2 6a ★ pleasant face via yellow-flecked wall 4m left of BB. Top pitch (5c) is via bulge and crack behind the tree.
3. Buster Bloodvessel E3 6a, 5c ★ overhang and steep wall then past a dead yew tree to break. Top pitch takes wall via flake and layback crack.
4. Red Flag Day E3 6a ★ scoop to undercut, then wall above, TRs, to belay.
5. Thin White Line is E5 6a crack in left wall of slim corner above.
6. Progressions of Power E3 5c, 5c ★ slab to traverse left and through overhang (direct is Scratting Hen Start E4 6a). Above is a layback crack exiting left at 5c or right at 4c.
7. Gerald's Dilemma VS 4c the large corner via a slab. Avoid the overhang on the right.
8. Glorious Wobblegong E5 6b ★ wall left of crack complete with bulge, BR and some hard moves.
9. Overhanging Crack E1 5b ★ obvious by name and gives a good pitch.
10. Pocket Rocket E4 6b ★ the cant of the white face with a problematic start. BR and 2PRs protect.
11. G.M.B.H. E3 6a ★ left arete of ECV past BR to gain finishing groove.
E.C.V. VS 4c ★ from the letters EVC, wall, corner and overhang finishing via crack.