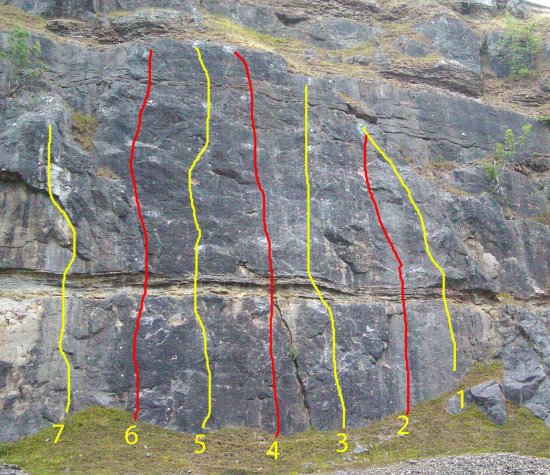 1. India (6b) pleasant slight groove with unusual exit leftwards. Reachy.
2. The Last Crusade (6c+) Difficult and fingery moves from ledge with scary clip. Pre-clip 3rd BR.
3. Independence (6b) ★ fine sustained face climbing via a blunt rib.
4. I Don't Agree (6b+) ★★ direct up the centre of the fine black face with excellent rock and climbing.
5. Independence Day (6b+) ★★ left-centre of face gives a fine companion tot he last route.
6. Oh Calcutta (6a) the shallow groove system on the left-hand side of the face gives the warm-up. Keep to the line of BRs.
7. The Indi Mix (6c) short difficult route past prominent layback edge.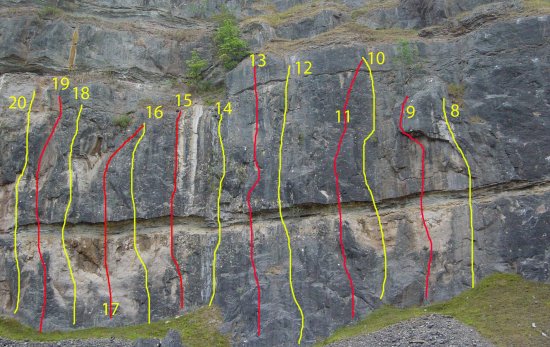 8. Indi-Pops (6c) fine climbing via a short wall and prominent overlap taken on the left.
9. Indiana Jones (6a+) gains the prominent cracks via a hard move through the overlap. Finish leftwards.
10. Into the Fire (7a) ★ superb climbing via an overlap and shallow black groove. Fingery at the crux through the overlap.
11. Augustus Gloop (6a+) ★ another good route taking the hanging black scoop and the pleasant wall above.
12. Verruca Salt (6b) ★ another good route taking the cracked overlap and the blunt rib above. Harder, marginally, that the last route.
13. Roald Dahling (6c) ★ superb climbing on the upper wall after a problematic move through the overlap. High in the grade.
14. Umpalumpa Groove (5) obvious crackline with awkward finale
15. Ump and Over (6a) blunt rib and pleasant face with tricky finish.
16. Beauregarde (6a+) ★ Face with awkward overlap and excellent face above.
17. No Regard (6b) a more difficult overlap and pleasant face above moving rightwards.
18. Is This as Good as it Gets (6c+) ★ desperate entry onto face via groove and fine rib above.
19. It Seems So (6a+) short wall, pleasant groove and steep finish to belay.
20. Consider an Evil (6a+) another short wall and tricky overlap. Easier above via short groove.